Urban Biodiversity
Coordination
Zdeňka Lososová
Collaboration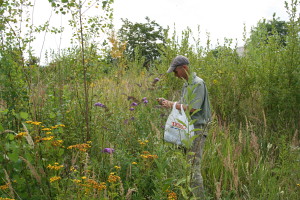 Tomáš Čejka (SAV Bratislava), Natálie Čeplová, Jiří Danihelka, Karel Fajmon (ČSOP Bílé Karpaty), Michal Horsák, Milan Chytrý, Lucie Juřičková (UK Praha), Veronika Kalusová, Deana Láníková, Zdenka Preislerová, Vladimír Řehořek, Lubomír Tichý, Bohuslav Uher
Funding
Grant Agency of the Czech Republic, grant no. 14-10723S
Grant Agency of the Academy of Sciences of the Czech Republic, project no. IAA601630803
Ministry of Education of the Czech Republic, long-term research plan no. MSM0021622416
Project aims
The project deals with biodiversity of large Central European cities. It uses standardized sampling protocols in selected man-made habitats and selected cities, representing areas of central Europe with different macroclimatic and socioeconomic characteristics. The focus is on two model taxonomic and ecological groups: vascular plants, land snails, and epilithic and epixylic algae and cyanobacteria.
The main questions are:
How does spread of alien species depend on the macroclimate of different parts of Central Europe and different types of urban habitats?
Does urban environment positively or negatively affect diversity of native species and overall species richness of the selected taxonomic groups?
Does urbanization cause biotic homogenization, and if so, is homogenization manifested both at the level of species and the level of species traits? Which habitats and species groups are most homogenized?
Are the patterns in urban diversity consistent between different taxonomic groups?
Partial results
Research papers
Fatal error: Uncaught Error: Call to undefined function mysql_pconnect() in /home/www/www/botany/vegsci/include/biodiverzitaen.php:28 Stack trace: #0 /home/www/www/botany/vegsci/biodiverzita.php(6): include() #1 {main} thrown in /home/www/www/botany/vegsci/include/biodiverzitaen.php on line 28