Vegetation of the Czech Republic
Association AAA01
Avenello flexuosae-Callunetum vulgaris Zlatník 1925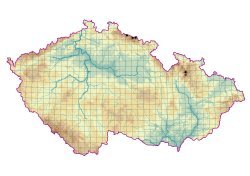 Photo on botanickafotogalerie.cz
This alpine heathland includes low-growing, species-poor stands dominated by Calluna vulgaris, accompanied by Vaccinium myrtillus and V. vitis-idaea, graminoids and lichens. It is the natural vegetation of wind-swept ridges in the highest summit areas at altitudes above 1400 m in the Krkonoše Mountains, and less frequently also in the Hrubý Jeseník Mountains.
Nomen inversum propositum et nomen mutatum propositum
Orig. (Zlatník 1925): Calluneto-Deschampsietum (Calluna vulgaris, Deschampsia flexuosa ~ Avenella flexuosa)
Syn.: Junco trifidi-Caricetum rigidae Šmarda 1950, Anemono micranthae-Callunetum Schubert 1960, Carici rigidae-Festucetum supinae (Jeník 1961) Matuszkiewicz 1967 p. p., Cetrario-Festucetum supinae callunetosum Rozsypalová in Burešová 1976, Hieracium alpinum-Calluna vulgaris Coenon Geringhoff et Daniëls 1998
Diagnostic species: Avenella flexuosa, Calluna vulgaris, Campanula bohemica, Carex bigelowii, Diphasiastrum alpinum, Festuca supina, Geum montanum, Hieracium alpinum agg., Huperzia selago, Juncus trifidus, Pulsatilla alpina subsp. austriaca, Vaccinium vitis-idaea; Alectoria ochroleuca, Lophozia lycopodioides, Cetraria islandica, C. nivalis, Cladonia arbuscula, C. bellidiflora, C. grayi, C. macilenta, C. merochlorophaea, C. pleurota, C. uncialis, Gymnocolea inflata, Micarea turfosa, Thamnolia vermicularis
Constant species: Avenella flexuosa, Bistorta major, Calluna vulgaris, Carex bigelowii, Festuca supina, Hieracium alpinum agg., Vaccinium myrtillus, V. vitis-idaea; Cetraria islandica, Cladonia macilenta, C. merochlorophaea, Pohlia nutans
Dominant species: Calluna vulgaris
Formal definition: Calluna vulgaris cover > 25 % AND Group Festuca supina NOT Empetrum nigrum s. l. cover > 25 %
Source: Kočí M. (2007): AAA01 Avenello flexuosae-Callunetum vulgaris Zlatník 1925. In: Chytrý M. (ed.), Vegetace České republiky. 1. Travinná a keříčková vegetace [Vegetation of the Czech Republic. 1. Grassland and Heathland Vegetation]. Academia, Praha, pp. 67-69.