Vegetation of the Czech Republic
Association KAB03
Salici purpureae-Myricarietum germanicae Moor 1958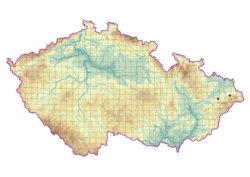 Photo on botanickafotogalerie.cz
This alluvial scrub is composed of open to closed stands of Myricaria germanica, which may be accompanied by shrubby willows such as Salix daphnoides, S. elaeagnos and S. purpurea. The stands may be 1–2 m tall. They occur on gravelly river terraces, especially those that are not affected by the strongest current during floods. They are occasionally flooded, but for most of the year the water table lies several dozen centimetres belowground. In the Czech Republic this vegetation historically occurred along several streams in the Moravskoslezské Beskydy Mountains in north-eastern Moravia, but most localities disappeared after streamflow started to be regulated in the second half of the 20th century. The only site where this vegetation currently occurs in its natural habitat is in the Morávka river floodplain near the village of Dobrá in north-eastern Moravia; here the Myricaria germanica population went extinct in the 1990s and was restored by planting individuals of local origin. However, stands corresponding to this association also developed in limestone quarries near Štramberk on the foothills of the Moravskoslezské Beskydy.
Orig. (Moor 1958): Salici-Myricarietum M. Moor 1958, ass. nov., Salix purpurea-Myricaria germanica-Assoziation
Syn.: Myricarietum germanicae Jeník 1955 (§ 2d), Myricario germanicae-Epilobietum dodonaei sensu auct. non Aichinger 1933 (pseudonym)
Diagnostic species: Myricaria germanica; Epilobium dodonaei, Eupatorium cannabinum, Tanacetum vulgare
Constant species: Myricaria germanica, Populus tremula, Rosa canina agg., Salix purpurea; Agrostis stolonifera, Achillea millefolium agg., Angelica sylvestris, Arabidopsis arenosa, Artemisia vulgaris, Bidens frondosus, Calamagrostis epigejos, Centaurea phrygia agg., Cytisus scoparius, Daucus carota, Echium vulgare, Epilobium dodonaei, Erigeron acris agg.,.Eupatorium cannabinum, Euphorbia cyparissias, Holcus lanatus, Hypericum perforatum, Lathyrus sylvestris, Melilotus albus, Mentha longifolia, Microrrhinum minus, Odontites vernus, Phalaris arundinacea, Poa compressa, Reynoutria japonica, Sedum album, Silene vulgaris,.Tanacetum vulgare, Trifolium pratense, Tussilago farfara, Vicia cracca
Dominant species: Myricaria germanica
Formal definition: Myricaria germanica cover > 25.%
Source: Chytrý M. (2013): KAB03 Salici purpureae-Myricarietum germanicae Moor 1958. In: Chytrý M. (ed.), Vegetace České republiky. 4. Lesní a křovinná vegetace [Vegetation of the Czech Republic 4. Forest and shrub vegetation]. Academia, Praha, pp. 60-63.