Vegetation of the Czech Republic
Association KBB01
Junipero communis-Cotoneasteretum integerrimi Hofmann 1958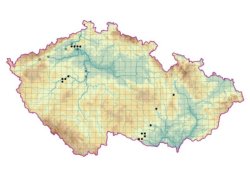 Photo on botanickafotogalerie.cz
This association is dominated by Cotoneaster integerrimus, and on a few sites in southern Moravia also by C. laxiflorus. Individuals of Sorbus aria agg. and other woody species can occur. The herb layer contains thermophilous rock-outcrop species. It is a natural vegetation type of rock outcrops, on which it forms small-scale stands, but it has also spread to deforested rocky slopes. In the Czech Republic it occurs mainly on the volcanic hills of northern Bohemia and in deep river valleys in central Bohemia and south-western Moravia.
Orig. (Hofmann 1958): Junipero-Cotoneasteretum (Juniperus communis, Cotoneaster integerrima = C. integerrimus)
Syn.: Cotoneastero integerrimi-Polygonatetum odorati Firbas et Sigmond 1928 (§ 2b, nomen nudum), Cotoneaster-Amelanchier-Gesträuch.Faber 1936 (§ 3c), Cotoneastero integerrimi-Amelanchieretum Tüxen 1952 (§ 2b, nomen nudum), Cytiso scoparii-Cotoneasteretum Stöcker 1964, Cotoneastero-Amelanchieretum Müller 1964, Cotoneastero-Amelanchieretum Korneck 1974, Polygonato-Sorbetum ariae Kolbek et Petříček 1985 prov., Lembotropido-Cotoneasteretum Rauschert 1990, Roso ellipticae-Cotoneasteretum Rauschert 1990, Seslerio-Cotoneasteretum Rauschert 1990
Diagnostic species: Cotoneaster integerrimus; Xanthoparmelia conspersa, X. pulla s. l., X. stenophylla s. l.
Constant species: Cotoneaster integerrimus; Hypnum cupressiforme s. l.
Dominant species: Cotoneaster integerrimus
Formal definition: (Cotoneaster integerrimus cover > 25 % OR Cotoneaster laxiflorus cover > 25.%) NOT Carpinus betulus cover > 25 % NOT Pinus sylvestris cover > 25 % NOT Quercus petraea agg. cover > 25 % NOT Quercus pubescens agg. cover > 25 % NOT Robinia pseudoacacia cover > 5 %
Source: Sádlo J. & Chytrý M. (2013): KBB01 Junipero communis-Cotoneasteretum integerrimi Hofmann 1958. In: Chytrý M. (ed.), Vegetace České republiky. 4. Lesní a křovinná vegetace [Vegetation of the Czech Republic 4. Forest and shrub vegetation]. Academia, Praha, pp. 94-96.