Vegetation of the Czech Republic
Association KBD01
Sambucetum nigrae Fija³kowski 1967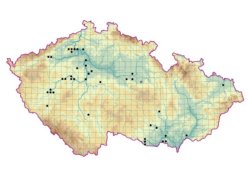 Photo on botanickafotogalerie.cz
This scrub type is dominated by the mesophilous nutrient-demanding shrub Sambucus nigra and contains various ruderal, nutrient-demanding herbs. In the lowlands and colline areas it occurs both in human settlements and open landscapes, while at higher altitudes it is confined to the settlements. It is found along roads, on the edges of forests or arable fields, on building rubble and in other types of abandoned ruderal habitats.
Orig. (Fija³kowski 1967): Sambucetum nigrae Ass. nov.
Syn.: Aegopodio podagrariae-Sambucetum nigrae Doing 1969, Sambucetum nigrae Oberdorfer 1973, Ficario-Sambucetum nigrae Sádlo in Kolbek et al. 2003, Lamio albi-Sambucetum nigrae Linke 2003
Diagnostic species: Prunus domestica, Sambucus nigra; Ballota nigra, Bryonia alba, Chelidonium majus
Constant species: Sambucus nigra; Artemisia vulgaris, Ballota nigra, Chelidonium majus, Elymus repens, Galium aparine, Geum urbanum,.Urtica dioica
Dominant species: Sambucus nigra; Anthriscus sylvestris, Chelidonium majus, Poa trivialis,.Urtica dioica, Vitis vinifera subsp. vinifera
Formal definition: Sambucus nigra cover > 50 % NOT Abies alba cover > 25 % NOT Acer platanoides cover > 5 % NOT Acer pseudoplatanus cover > 5 % NOT Alnus glutinosa cover > 5 % NOT Fagus sylvatica cover > 25 % NOT Fraxinus excelsior cover > 25 % NOT Picea abies cover > 25 % NOT Pinus sylvestris cover > 25 % NOT Quercus robur cover > 25 % NOT Robinia pseudoacacia cover > 25 %
Source: Sádlo J. & Chytrý M. (2013): KBD01 Sambucetum nigrae Fija³kowski 1967. In: Chytrý M. (ed.), Vegetace Èeské republiky. 4. Lesní a køovinná vegetace [Vegetation of the Czech Republic 4. Forest and shrub vegetation]. Academia, Praha, pp. 129-132.