Vegetation of the Czech Republic
Association KBD02
Lycietum barbari Felföldy 1942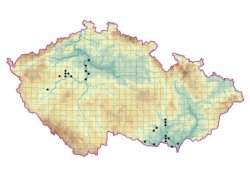 Photo on botanickafotogalerie.cz
This community is dominated by Lycium barbarum, an alien shrub of Asian origin. Interior parts of the stands contain considerable amounts of dry Lycium branches. The herb layer is characterized by both perennial and annual ruderal species. It occurs on dry, sun-exposed sites in warm lowland and colline landscapes, e.g. on vineyard terraces, railway rights-of-way and road banks or along fences and walls. At higher altitudes it is confined to urban habitats. The soils are usually calcareous and well drained. Some stands were planted to prevent soil erosion.
Nomen mutatum propositum Orig. (Felföldy 1942): Lycium halimifolium-ass. (Lycium halimifolium = L. barbarum)
Syn.: Anthrisco-Lycietum halimifolii (Felföldy 1942) Jurko 1964
Diagnostic species: Ailanthus altissima, Lycium barbarum, Syringa vulgaris; Anthriscus cerefolium, Asperugo procumbens, Ballota nigra, Bromus sterilis, Bryonia alba
Constant species: Lycium barbarum; Artemisia vulgaris, Ballota nigra, Elymus repens, Galium aparine
Dominant species: Lycium barbarum, Syringa vulgaris
Formal definition: Lycium barbarum cover > 25 % NOT Robinia pseudoacacia cover > 25 %
Source: Sádlo J. & Chytrý M. (2013): KBD02 Lycietum barbari Felföldy 1942. In: Chytrý M. (ed.), Vegetace Èeské republiky. 4. Lesní a køovinná vegetace [Vegetation of the Czech Republic 4. Forest and shrub vegetation]. Academia, Praha, pp. 132-134.