Vegetation of the Czech Republic
Association KCA02
Adenostylo alliariae-Pinetum mugo (Sillinger 1933) Šoltésová 1974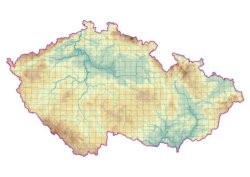 Photo on botanickafotogalerie.cz
Adenostylo-Pinetum mugo is a rare community of Pinus mugo scrub with subalpine tall forbs such as Athyrium distentifolium, Cicerbita alpina, Gentiana asclepiadea, Rumex arifolius, Senecio hercynicus and Veratrumalbum subsp. lobelianum. It is found on avalanche tracks and on leeward slopes of glacial cirques in the Krkonoše Mountains at altitudes of 1100–1300 m. These sites are characterized by a deep snowpack in winter, moist soil in spring and summer, and fast litter decomposition, which prevents accumulation of the thick raw humus typical of the previous association of Pinus mugo scrub. Only small patches of this vegetation are known from the Krkonoše.
Orig. (Šoltésová 1974): Assoziation Adenostylo alliariae-Pinetum mughi (Sill., 33) comb. nova
Syn.: Mughetum altherbosum Sillinger 1933 (§ 34a), Athyrio-Pinetum mugo tatricum (§ 34a), Athyrio distentifolii-Pinetum mugo (Hadač 1956) Mucina et al. 1985
Diagnostic species: Pinus mugo; Athyrium distentifolium, Thelypteris limbosperma, Trientalis europaea
Constant species: Betula carpatica, Picea abies, Pinus mugo, Rubus idaeus, Sorbus aucuparia; Aconitum firmum subsp. moravicum, Adenostyles alliariae, Athyrium distentifolium, Calamagrostis villosa, Cicerbita alpina, Dryopteris carthusiana, D. dilatata, D. filix-mas, Gentiana asclepiadea, Geranium sylvaticum, Gymnocarpium dryopteris, Homogyne alpina, Lycopodium annotinum, Oxalis acetosella, Paris quadrifolia, Polygonatum verticillatum, Rumex arifolius, Senecio nemorensis agg., Stellaria nemorum, Thelypteris limbosperma, Trientalis europaea, Vaccinium myrtillus, Veratrum album subsp. lobelianum, Viola biflora; Atrichum undulatum, Calliergon cordifolium, Calypogeia azurea, Chiloscyphus polyanthos, Hylocomium splendens, Pellia epiphylla, Pellia neesiana, Plagiothecium succulentum, P. undulatum, Polytrichum formosum, Rhytidiadelphus loreus, R. squarrosus, Sphagnum contortum, S. fimbriatum, S. squarrosum
Dominant species: Pinus mugo
Formal definition: Pinus mugo cover > 25 % AND Athyrium distentifolium cover > 5 % AND Group Veratrum lobelianum
Source: Chytrý M. (2013): KCA02 Adenostylo alliariae-Pinetum mugo (Sillinger 1933) Šoltésová 1974. In: Chytrý M. (ed.), Vegetace České republiky. 4. Lesní a křovinná vegetace [Vegetation of the Czech Republic 4. Forest and shrub vegetation]. Academia, Praha, pp. 163-165.