Vegetation of the Czech Republic
Association LAB02
Salicetum pentandro-auritae Passarge 1957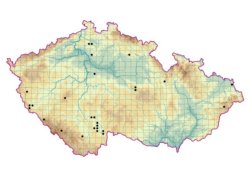 Photo on botanickafotogalerie.cz
This association includes eutrophic willow carrs, most frequently dominated by Salix cinerea and in some places also by S. aurita. The herb layer is composed of nutrient-demanding wetland plants, whereas oligotrophic herbs typical of the previous association are rare. Soils are either organic or gleysols. The water table is near the ground surface for most of the year, and periodically the sites are flooded. This association is common on waterlogged sites throughout the Czech Republic, but is poorly documented by relevÚs.
Orig. (Passarge 1957): Salicetum pentandro-auritae
Syn.: Salicetum cinereae Zˇlyomi 1931 (ž 2b, nomen nudum), Salici-Franguletum Graebner et Hueck 1931 (ž 3l), Calamagrostio-Salicetum cinereae Soˇ et Zˇlyomi in Soˇ 1955 (ž 2b, nomen nudum), Alno-Salicetum cinereae Passarge 1957 (ž 25), Calamagrostio-Salicetum cinereae Soˇ et Zolyomi ex Simon 1960, Salicetum pentandro-cinereae Passarge 1961 typicum Passarge 1961
Diagnostic species: Salix aurita, S. cinerea, S. pentandra; Calamagrostis canescens, Carex elongata, Lysimachia thyrsiflora, Solanum dulcamara
Constant species: Salix cinerea; Galium palustre agg., Lysimachia vulgaris, Phalaris arundinacea, Solanum dulcamara, Urtica dioica
Dominant species: Frangula alnus, Salix aurita, S. cinerea; Calamagrostis canescens
Formal definition: (Frangula alnus cover > 25 % OR Salix aurita cover > 25 % OR Salix cinerea cover > 25 % OR Spiraea salicifolia cover > 25 %) AND (Group Caltha palustris OR Group Calystegia sepium OR Group Cardamine amara OR Group Carex acuta OR Group Carex elongata OR Group Cirsium oleraceum OR Group Iris pseudacorus)) NOT Group Carex canescens NOT Group Carex panicea NOT Group Carex rostrata NOT Group Sphagnum palustre NOT Group Viola palustris NOT Alnus glutinosa cover > 25 %
Source: Douda J. (2013): LAB02 Salicetum pentandro-auritae Passarge 1957. In: Chytrř M. (ed.), Vegetace ╚eskÚ republiky. 4. LesnÝ a k°ovinnß vegetace [Vegetation of the Czech Republic 4. Forest and shrub vegetation]. Academia, Praha, pp. 180-182.