Vegetation of the Czech Republic
Association LBC03
Carici pilosae-Fagetum sylvaticae Oberdorfer 1957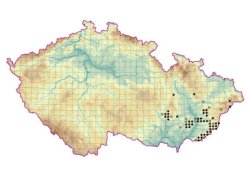 Photo on botanickafotogalerie.cz
This is a forest type dominated by Fagus sylvatica, in places mixed with Carpinus betulus, Quercus petraea agg. and other species. Its herb layer is dominated by Carex pilosa and contains other species of eastern or southern distribution, in addition to mesic forest species shared with other types of beech forests. In the Czech Republic this association is confined to the Carpathians and the eastern edge of the Bohemian Massif, where it occurs, on average, at lower altitudes and warmer sites of the colline to montane belt than other beech forest types. Soils are cambisols developed on flysch sediments and other parent material.
Orig. (Oberdorfer 1957): Carici pilosae-Fagetum ass. nov. (Fagus sylvatica)
Diagnostic species: Fagus sylvatica; Carex pilosa, Cephalanthera longifolia, Dentaria bulbifera, Euphorbia amygdaloides, Galium intermedium, G. odoratum, Hacquetia epipactis, Lathyrus vernus, Melica uniflora, Viola reichenbachiana
Constant species: Fagus sylvatica, Rubus fruticosus agg.; Athyrium filix-femina, Carex pilosa, Dentaria bulbifera, Euphorbia amygdaloides, Galium odoratum, Lathyrus vernus, Maianthemum bifolium, Melica uniflora, Mycelis muralis, Oxalis acetosella, Pulmonaria officinalis agg., Viola reichenbachiana
Dominant species: Fagus sylvatica; Carex pilosa, Melica uniflora
Formal definition: Fagus sylvatica cover > 50 % AND Group Carex pilosa NOT Group Cephalanthera damasonium
Source: Hédl R. (2013): LBC03 Carici pilosae-Fagetum sylvaticae Oberdorfer 1957. In: Chytrý M. (ed.), Vegetace České republiky. 4. Lesní a křovinná vegetace [Vegetation of the Czech Republic 4. Forest and shrub vegetation]. Academia, Praha, pp. 254-256.