Vegetation of the Czech Republic
Association LBE01
Luzulo luzuloidis-Fagetum sylvaticae Meusel 1937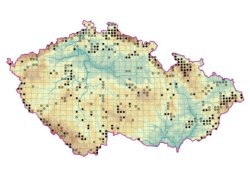 Photo on botanickafotogalerie.cz
This association comprises submontane acidophilous beech forests. They are dominated by Fagus sylvatica, locally with Picea abies or other tree species. Abies alba used to be more common in the past but recently has become rare. The shrub and herb layers are sparse and species-poor. This association is common on acidic soils from lowlands to the montane belt, especially at altitudes of 400–700 m.
Nomen mutatum propositum et nomen inversum propositum
Orig. (Meusel 1937): Fagus sylvatica-Luzula nemorosa-Assoziation (Luzula nemorosa = L. luzuloides)
Syn.: Melampyro-Fagetum Oberdorfer 1957, Calamagrostio arundinaceae-Fagetum Sýkora 1971, Dryopterido dilatatae-Fagetum Kučera et Jirásek 1994
Diagnostic species: Fagus sylvatica; Dicranella heteromalla, Polytrichum formosum
Constant species: Fagus sylvatica, Picea abies; Avenella flexuosa, Dryopteris dilatata, Hieracium murorum, Luzula luzuloides, Oxalis acetosella, Vaccinium myrtillus; Dicranella heteromalla, Dicranum scoparium, Hypnum cupressiforme s. l., Polytrichum formosum
Dominant species: Fagus sylvatica, Picea abies; Avenella flexuosa, Calamagrostis arundinacea, Luzula luzuloides, Vaccinium myrtillus
Formal definition: Fagus sylvatica cover > 50 % AND (Group Hieracium sabaudum OR Group Vaccinium myrtillus) NOT Group Asarum europaeum NOT Group Carex digitata NOT Group Galium odoratum NOT Group Lathyrus vernus NOT Group Mercurialis perennis NOT Group Trientalis europaea NOT Calamagrostis villosa cover > 5 %
Source: Hédl R. (2013): LBE01 Luzulo luzuloidis-Fagetum sylvaticae Meusel 1937. In: Chytrý M. (ed.), Vegetace České republiky. 4. Lesní a křovinná vegetace [Vegetation of the Czech Republic 4. Forest and shrub vegetation]. Academia, Praha, pp. 268-271.