Vegetation of the Czech Republic
Association LFB03
Hieracio pallidi-Pinetum sylvestris St÷cker 1965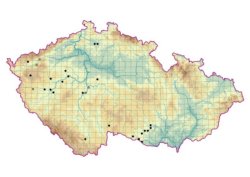 Photo on botanickafotogalerie.cz
These small-scale forest stands are dominated by Pinus sylvestris, frequently mixed with Quercus petraea agg. The herb layer is sparse and dominated by short acidophilous grasses and herbaceous plants typical of siliceous rock outcrops, whereas ericoid dwarf shrubs are rare. The moss layer is well developed, containing xerophilous species of mosses and lichens. This association is typical of sun-exposed rock outcrops, mainly in the deep river valleys of the Bohemian Massif. Most stands are probably primary relict pine forests, but some may have originated through human impact on dry oak forests.
Orig. (St÷cker 1965): Hieracio pallidi-Pinetum (Hieracium pallidum = H. schmidtii, Pinus sylvestris)
Syn.: Cardaminopsio petraeae-Pinetum sylvestris HŘbl et Holzner 1977
Diagnostic species: Betula pendula, Pinus sylvestris; Asplenium septentrionale, Aurinia saxatilis, Carex ericetorum, Festuca pallens, Hieracium caesium, H. schmidtii; Ceratodon purpureus, Cladonia cervicornis s. l., C. coccifera s. l., C. furcata, C. glauca, C. gracilis, Parmelia saxatilis, Polytrichum piliferum, Xanthoparmelia conspersa, X. stenophylla s. l.
Constant species: Betula pendula, Pinus sylvestris, Quercus petraea agg.; Avenella flexuosa, Campanula rotundifolia agg., Festuca ovina, F. pallens; Ceratodon purpureus, Dicranum scoparium, Hypnum cupressiforme s. l., Polytrichum piliferum
Dominant species: Pinus sylvestris; Avenella flexuosa; Ceratodon purpureus, Dicranum scoparium, Polytrichum piliferum
Formal definition: Pinus sylvestris cover > 10 % AND (Group Aurinia saxatilis OR Group Polytrichum piliferum) NOT Group Anthoxanthum odoratum NOT Group Atropa bella-donna NOT Group Brachypodium pinnatum NOT Group Carex caryophyllea NOT Group Carex digitata NOT Group Cirsium acaulon NOT Group Corynephorus canescens NOT Group Cytisus nigricans NOT Group Epilobium angustifolium NOT Group Geranium sanguineum NOT Group Lactuca perennis NOT Group Lathyrus niger NOT Group Potentilla incana NOT Group Stachys recta NOT Abies alba cover > 5 % NOT Asplenium cuneifolium cover > 5 % NOT Brachypodium pinnatum cover > 5 % NOT Carpinus betulus cover > 5 % NOT Fagus sylvatica cover > 5 % NOT Larix decidua cover > 5 % NOT Picea abies cover > 5 % NOT Quercus petraea agg. cover > 10 % NOT Quercus robur cover > 10 % NOT Sesleria caerulea cover > 5 % NOT Silene vulgaris cover > 5 %
Source: Zelenř D. (2013): LFB03 Hieracio pallidi-Pinetum sylvestris St÷cker 1965. In: Chytrř M. (ed.), Vegetace ╚eskÚ republiky. 4. LesnÝ a k°ovinnß vegetace [Vegetation of the Czech Republic 4. Forest and shrub vegetation]. Academia, Praha, pp. 398-401.