Vegetation of the Czech Republic
Association MBB04
Chenopodio chenopodioidis-Atriplicetum prostratae SlavniŠ 1948 corr. Gutermann et Mucina in Mucina et al. 1993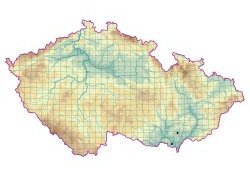 Photo on botanickafotogalerie.cz
This association includes vegetation of different species of Atriplex and Chenopodium, including Chenopodium chenopodioides. It is a natural vegetation type of saline, periodically flooded soils, which rarely occurs in anthropogenic habitats. In the Czech Republic it has been only found on dried fishpond bottoms at a few sites in southern Moravia.
Nomen mutatum propositum
Orig. (SlavniŠ 1948): Acocijacija Chenopodium-Atriplex salina SlavniŠ 1939 (Atriplex hastata f. salina. A. hastata = A. prostrata. Chenopodium crassifolium var. Degenianum = C. chenopodioides. C. glaucum)
Diagnostic species: Atriplex prostrata subsp. latifolia, Chenopodium chenopodioides, Echinochloa crus-galli
Constant species: Alopecurus aequalis, Atriplex prostrata subsp. latifolia, Bolboschoenus maritimus s. l. (predominantly B. planiculmis), Chenopodium ficifolium. C. glaucum, C. chenopodioides, Cirsium arvense. Conyza canadensis. Cyperus fuscus, Echinochloa crus-galli, Epilobium tetragonum agg., Juncus articulatus. J. ranarius. Lotus tenuis. Medicago lupulina. Melilotus dentatus. Myosoton aquaticum. Oenanthe aquatica. Persicaria lapathifolia. Phragmites australis. Plantago major. Potentilla supina. Ranunculus sceleratus. Rumex maritimus. Sonchus arvensis. Trifolium hybridum. Tripleurospermum inodorum. Veronica anagallis-aquatica
Dominant species: –
Formal definition: Chenopodium chenopodioides cover > 5 % NOT Persicaria lapathifolia cover > 25 %
Source: ęumberovß K. (2011): MBB04 Chenopodio chenopodioidis-Atriplicetum prostratae SlavniŠ 1948 corr. Gutermann et Mucina in Mucina et al. 1993. In: Chytrř M. (ed.), Vegetace ╚eskÚ republiky. 3. VodnÝ a mok°adnÝ vegetace [Vegetation of the Czech Republic 3. Aquatic and wetland vegetation]. Academia, Praha, pp. 381-384.