Vegetation of the Czech Republic
Association MCA02
Typhetum angustifoliae Pignatti 1953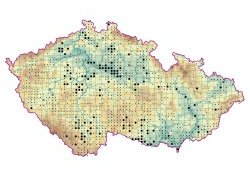 Photo on botanickafotogalerie.cz
Marshes dominated by Typha angustifolia occur in the littoral zones of fishponds, flooded sand pits and pools in stone quarries, oxbows in early stages of terrestrialization, ditches and lentic sections of rivers. These wetlands are usually mesotrophic to naturally eutrophic, with water 20–60(–100) cm deep. T. angustifolia is typical of early successional habitats with mineral substrate on the bottom and it usually disappears as organic sediment accumulates. It occurs in lowlands and colline areas throughout the Czech Republic, with rare occurrences in submontane areas.
Orig. (Pignatti 1953): Typhetum angustifoliae (Allorge 1921) Pign. 1953
Syn.: Scirpo lacustris-Glycerietum aquaticae Allorge 1921, le faciès à Typha angustifolia Allorge 1921 (§ 3c), Scirpo-Phragmitetum Koch 1926 p. p. (§ 2b, nomen ambiguum), Typhetum angustifolio-latifoliae Schmale 1939 p. p. (§ 36, nomen ambiguum)
Diagnostic species: Typha angustifolia
Constant species: Lemna minor, Typha angustifolia
Dominant species: Lemna minor, Typha angustifolia
Formal definition: Typha angustifolia cover > 25 % NOT Schoenoplectus tabernaemontani cover > 25 %
Source: Šumberová K. (2011): MCA02 Typhetum angustifoliae Pignatti 1953. In: Chytrý M. (ed.), Vegetace České republiky. 3. Vodní a mokřadní vegetace [Vegetation of the Czech Republic 3. Aquatic and wetland vegetation]. Academia, Praha, pp. 398-401.