Vegetation of the Czech Republic
Association MCA07
Acoretum calami Dagys 1932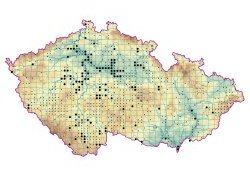 Photo on botanickafotogalerie.cz
This association includes stands of Acorus calamus, a neophyte of eastern Asian origin, which has been deliberately introduced or has spread spontaneously into mesotrophic to hypertrophic wetlands, such as small fishponds, oxbows and alluvial pools. Water depths are 10–40(–100) cm. This vegetation occurs in lowland and colline areas across the Czech Republic.
Orig. (Dagys 1932): Acoretum Calami
Syn.: Acoretum calami Eggler 1933
Diagnostic species: Acorus calamus
Constant species: Acorus calamus
Dominant species: Acorus calamus, Lemna minor
Formal definition: Acorus calamus cover > 25 % NOT Carex acuta cover > 50 % NOT Carex diandra cover > 50 % NOT Glyceria maxima cover > 25 %
Source: Šumberová K. (2011): MCA07 Acoretum calami Dagys 1932. In: Chytrý M. (ed.), Vegetace České republiky. 3. Vodní a mokřadní vegetace [Vegetation of the Czech Republic 3. Aquatic and wetland vegetation]. Academia, Praha, pp. 417-419.