Vegetation of the Czech Republic
Association MCC02
Oenantho aquaticae-Rorippetum amphibiae Lohmeyer 1950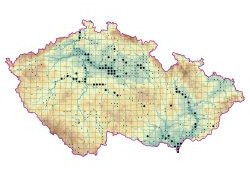 Photo on botanickafotogalerie.cz
This vegetation type, dominated by Rorippa amphibia, occurs in oxbows, alluvial pools, ditches, channels, on fluvial sediment accumulations and in lentic sections of rivers. It rarely occurs in fishponds and strongly eutrophicated water bodies with deep organic sediments. Water is usually 10–80 cm deep, but water table often drops far enough to expose the bottom in summer. This vegetation type occurs in lowlands and warm colline areas.
Orig. (Lohmeyer 1950b): Oenanthe aquatica-Rorippa amphibia-Ass. Lohm. 1950
Diagnostic species: Rorippa amphibia
Constant species: Rorippa amphibia
Dominant species: Oenanthe aquatica, Rorippa amphibia
Formal definition: Rorippa amphibia cover > 25 % NOT Glyceria maxima cover > 25 % NOT Phalaris arundinacea cover > 25 % NOT Phragmites australis cover > 25 % NOT Sagittaria sagittifolia cover > 25 % NOT Schoenoplectus lacustris cover > 25 % NOT Sparganium erectum cover > 25 % NOT Typha angustifolia cover > 25 %
Source: Šumberová K. & Hroudová Z. (2011): MCC02 Oenantho aquaticae-Rorippetum amphibiae Lohmeyer 1950. In: Chytrý M. (ed.), Vegetace České republiky. 3. Vodní a mokřadní vegetace [Vegetation of the Czech Republic 3. Aquatic and wetland vegetation]. Academia, Praha, pp. 448-451.