Vegetation of the Czech Republic
Association MCD03
Tussilagini farfarae-Calamagrostietum pseudophragmitae Pawłowski et Walas 1949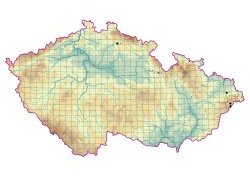 Photo on botanickafotogalerie.cz
Vegetation dominated by Calamagrostis pseudophragmites occurs on gravel bars of submontane fast flowing rivers. The gravel bars are situated above or at the mean annual water level. The vegetation can be disturbed by strong but brief floods that cause erosion and translocation of accumulated sediments to elsewhere in the floodplain. This vegetation occurs on the Ostravice river in north-eastern Moravia and the Jizera river in eastern Bohemia. In the past it also occurred along other eastern Bohemian rivers.
Orig. (Pawłowski & Walas 1949): Tussilagineto-Pseudophragmitetum Pawł. et Wal., Association à Tussilago farfara – et Calamagrostis pseudophragmites
Syn.: Calamagrostietum pseudophragmitae Beldie 1967, Calamagrostietum pseudophragmitae Kopeckę 1968
Diagnostic species: Calamagrostis pseudophragmites, Mentha longifolia, Petasites kablikianus, Poa palustris
Constant species: Calamagrostis pseudophragmites, Mentha longifolia. Myosotis palustris agg., Petasites kablikianus. Phalaris arundinacea. Poa palustris. Ranunculus repens
Dominant species: Calamagrostis pseudophragmites, Phalaris arundinacea
Formal definition: Calamagrostis pseudophragmites cover > 5 %
Source: Chytrę M. (2011): MCD03 Tussilagini farfarae-Calamagrostietum pseudophragmitae Pawłowski et Walas 1949. In: Chytrę M. (ed.), Vegetace Èeské republiky. 3. Vodní a mokűadní vegetace [Vegetation of the Czech Republic 3. Aquatic and wetland vegetation]. Academia, Praha, pp. 493-495.