Vegetation of the Czech Republic
Association MCH01
Caricetum acutiformi-paniculatae Vlieger et van Zinderen Bakker in Boer 1942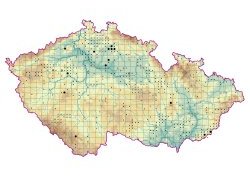 Photo on botanickafotogalerie.cz
This species-poor marsh vegetation, dominated by the tussock sedge Carex paniculata, occupies fishpond littoral zones with water rich in calcium and nutrients. Water table is high and relatively stable. Caricetum acutiformi-paniculatae is natural vegetation type which does not require any management to remain stable. It is distributed in mid-altitude areas with calcareous bedrock.
Orig. (Boer 1942): Caricetum acutiformo-paniculatae, Vlieger et van Zinderen Bakker (1942)
Syn. Caricetum paniculatae Wangerin 1916 (§ 2b, nomen nudum), Caricetum paniculatae Wangerin ex von Rochow 1951, Eupatorio-Caricetum paniculatae Passarge 1999
Diagnostic species: Carex paniculata, Galium palustre agg.
Constant species: Carex paniculata, Cirsium palustre, Galium palustre agg., Lemna minor. Lycopus europaeus. Lysimachia vulgaris
Dominant species: Carex paniculata, Elodea canadensis. Lemna minor. Phragmites australis
Formal definition: Carex paniculata cover > 50 % AND (Group Carex acuta OR Group Lysimachia vulgaris OR Lemna minor cover > 5 %) NOT Group Arrhenatherum elatius NOT Group Caltha palustris NOT Group Carex elongata NOT Group Carex panicea NOT Group Carex rostrata NOT Group Cirsium oleraceum NOT Juncus inflexus cover > 25 %
Source: Hájková P. (2011): MCH01 Caricetum acutiformi-paniculatae Vlieger et van Zinderen Bakker in Boer 1942. In: Chytrý M. (ed.), Vegetace České republiky. 3. Vodní a mokřadní vegetace [Vegetation of the Czech Republic 3. Aquatic and wetland vegetation]. Academia, Praha, pp. 555-558.