Vegetation of the Czech Republic
Association MCH04
Caricetum vesicariae Chouard 1924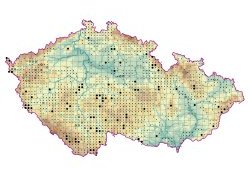 Photo on botanickafotogalerie.cz
Marshes dominated by Carex vesicaria occur in shallow mesotrophic to eutrophic wetlands such as the shores of fishponds, oxbows, alluvial pools, the floodplains of small streams, in ditches and in wet depressions in meadows. These habitats are usually inundated by water up to 20 cm deep, but the water table can drop below the soil surface for some periods in summer. Caricetum vesicariae has the highest moisture requirements of the associations of the alliance Magno-Caricion gracilis. It is accordingly most common in precipitation-rich areas. Occurrences of the association in the Czech Republic are concentrated in cool colline and submontane areas.
Orig. (Chouard 1924): Association à Carex vesicaria
Syn.: Caricetum.vesicariae Br.-Bl. et Denis 1926, Caricetum inflato-vesicariae Koch 1926 p. p., Caricetum acuto-vesicariae (Koch 1926) Westhoff 1949 p. p., Caricetum vesicariae Rübel 1933á, Caricetum vesicariae Eggler 1933
Diagnostic species: Carex vesicaria
Constant species: Carex vesicaria, Galium palustre agg.
Dominant species: Carex vesicaria
Formal definition: Carex vesicaria cover > 50 % NOT Group Lychnis flos-cuculi NOT Carex elata cover > 25 % NOT Eriophorum angustifolium cover > 25 % NOT Filipendula ulmaria cover > 25 % NOT Molinia caerulea s. l. cover > 25 %
Source: Šumberová K. (2011): MCH04 Caricetum vesicariae Chouard 1924. In: Chytrý M. (ed.), Vegetace České republiky. 3. Vodní a mokřadní vegetace [Vegetation of the Czech Republic 3. Aquatic and wetland vegetation]. Academia, Praha, pp. 565-568.