Vegetation of the Czech Republic
Association RAA01
Caricetum remotae Kästner 1941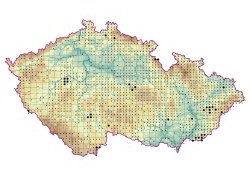 Photo on botanickafotogalerie.cz
This community, dominated by Carex remota, develops in springs shaded by a forest canopy, with intermittent water supply, which leads to a higher representation of mesophilous forest species than in the other associations of the alliance Caricion remotae. The herb layer is moderately rich in species, while the moss layer is rather species-poor, and in some cases suppressed by tree litter. In the Czech Republic this vegetation type occurs from colline to montane areas.
Orig. (Kästner 1941): Caricetum remotae
Syn.: Cardamino amarae-Caricetum remotae Kästner 1941 (§ 25), Cardamine amara.flexuosa-Gesellschaft Oberdorfer & Philippi 1977, Veronico montanae-Caricetum remotae Sýkora in Hadač 1983
Diagnostic species: Cardamine flexuosa, Carex remota, Veronica montana
Constant species: Athyrium filix-femina, Carex remota, Oxalis acetosella. Ranunculus repens
Dominant species: Caltha palustris, Carex remota
Formal definition: Carex remota cover > 5 % NOT Group Caltha palustris NOT Cardamine amara subsp. amara et austriaca cover > 5 % NOT Eupatorium cannabinum cover > 5 % NOT Petasites albus cover > 5 % NOT Petasites hybridus cover > 5 %
Source: Hájková P. & Hájek M. (2011): RAA01 Caricetum remotae Kästner 1941. In: Chytrý M. (ed.), Vegetace České republiky. 3. Vodní a mokřadní vegetace [Vegetation of the Czech Republic 3. Aquatic and wetland vegetation]. Academia, Praha, pp. 584-587.