Vegetation of the Czech Republic
Association RAB01
Brachythecio rivularis-Cratoneuretum Dierßen 1973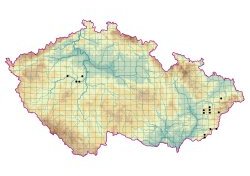 Photo on botanickafotogalerie.cz
This vegetation type occurs in forest springs with calcium carbonate precipitation. Species richness of vascular plants is usually very low, and it decreases as the amount of calcium carbonate precipitation increases. Bryophytes mostly predominate over herbs. A well-developed moss layer can significantly increase calcium carbonate precipitation due to high carbon dioxide uptake from water for photosynthesis. In the Czech Republic, this vegetation has been recorded at low and middle altitudes on calcium-rich bedrock.
Orig. (Dierßen 1973): Brachythecio rivularis-Cratoneuretum .Cratoneuron commutatum = Palustriella commutata. C. filicinum)
Syn.: Cratoneuro fallacis-Brachythecietum rivularis Giacomini 1939 (§ 2b, nomen nudum), Pellio endiviifoliae-Cratoneuretum commutati Rivola 1982, Cratoneuretum commutati sensu auct. non Aichinger 1933 (pseudonym)
Diagnostic species: Carex pendula. Eupatorium cannabinum; Brachythecium rivulare. Bryum pseudotriquetrum. Eucladium verticillatum, Palustriella commutata. Pellia endiviifolia, Philonotis calcarea
Constant species: Brachythecium rivulare, Palustriella commutata, Pellia endiviifolia
Dominant species: Caltha palustris. Carex panicea. Equisetum palustre; Bryum pseudotriquetrum. Calliergonella cuspidata, Palustriella commutata, Pellia endiviifolia
Formal definition: Palustriella commutata cover > 5 % NOT Group Allium schoenoprasum NOT Group Eriophorum latifolium NOT Group Juncus inflexus NOT Group Lychnis flos-cuculi NOT Group Philonotis seriata NOT Allium schoenoprasum cover > 5 % NOT Berula erecta cover > 50 % NOT Petasites albus cover > 50 % NOT Trichophorum alpinum cover > 5 %
Source: Hájková P. & Hájek M. (2011): RAB01 Brachythecio rivularis-Cratoneuretum Dierßen 1973. In: Chytrý M. (ed.), Vegetace České republiky. 3. Vodní a mokřadní vegetace [Vegetation of the Czech Republic 3. Aquatic and wetland vegetation]. Academia, Praha, pp. 596-599.