Vegetation of the Czech Republic
Association RAC01
Philonotido fontanae-Montietum rivularis Büker et Tüxen in Büker 1942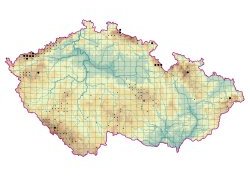 Photo on botanickafotogalerie.cz
This vegetation type of well-insolated springs dominated by Montia hallii and M. fontana occurs in slow-moving water with low to intermediate calcium content in the montane belt. Montia species are poor competitors, and this vegetation type is endangered across Europe due to increasing eutrophication and associated spread of competitively superior species. In the Czech Republic it occurs rarely in mountain areas.
Orig. (Büker 1942): Philonotis fontana-Montia rivularis-Ass. Büker et Tx. 1941 (Montia rivularis = M. fontana nebo M. hallii)
Syn.: Philonotido caespitosae-Montietum rivularis Allorge 1921 (§ 2b, nomen nudum), Montio rivularis-Philonotidetum caespitosae Schwickerath 1944, Caltho minoris-Philonotidetum seriatae (Kästner 1938) Hadaè 1983, Stellario alsines-Montietum Franzi 1984, Stellario alsines-Montietum fontanae Hinterlang 1992
Diagnostic species: Agrostis canina. Epilobium obscurum. E. palustre. Montia fontana, M. hallii, Stellaria alsine; Brachythecium rivulare. Calliergon cordifolium, Philonotis caespitosa
Constant species: Agrostis canina. Deschampsia cespitosa. Epilobium palustre. Galium palustre agg., Juncus effusus, Montia hallii, Myosotis palustris agg., Poa trivialis, Stellaria alsine
Dominant species: Agrostis canina, Epilobium obscurum. Montia fontana, M. hallii, Stellaria alsine. Veronica beccabunga; Brachythecium rivulare, Sphagnum girgensohnii
Formal definition: (Montia fontana cover > 5 % OR Montia hallii cover > 5 %) NOT Scirpus sylvaticus cover > 25 %
Source: Hájková P. & Hájek M. (2011): RAC01 Philonotido fontanae-Montietum rivularis Büker et Tüxen in Büker 1942. In: Chytrý M. (ed.), Vegetace Èeské republiky. 3. Vodní a mokøadní vegetace [Vegetation of the Czech Republic 3. Aquatic and wetland vegetation]. Academia, Praha, pp. 600-603.