Vegetation of the Czech Republic
Association RBA04
Campylio stellati-Caricetum lasiocarpae Klötzli 1969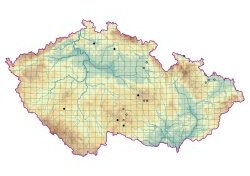 Photo on botanickafotogalerie.cz
This association is characterized by both the fen species with boreal distribution, considered to be glacial relicts, and the species requiring stable water regime and deep peat. The vegetation consists of short fen sedges (including Carex davalliana on some sites), tall fen sedges (C. diandra and C. lasiocarpa), broad-leaved wetland plants (Menyanthes trifoliata) and brown mosses such as Campylium stellatum and Scorpidium cossonii. The substrate is a deep water-saturated peat, without precipitated calcium carbonate. The association contains many rare and endangered species such as Eriophorum gracile. Pedicularis palustris and Hamatocaulis vernicosus. It occurs at a few sites in the Doksy region of northern Bohemia, the Bohemian-Moravian Uplands, and northern Moravia.
Nomen mutatum propositum
Orig. (Klötzli 1969): Chrysohypno-Caricetum lasiocarpae (Chrysohypnum stellatum = Campylium stellatum)
Syn.: Caricetum lasiocarpae Koch 1926 (§ 36, nomen ambiguum), Hypno-Caricetum Steffen 1931 p. p. (§ 3f), Scorpidio-Caricetum diandrae Steffen 1931 (fantom), Caricetum diandro-lasiocarpae.basiclinum Duvigneaud 1944 (§ 34a), Caricetum lasiocarpae Vollmar 1947 (§ 36, nomen ambiguum), Eriophorum gracile-Carex diandra Ges. Jeschke 1959 (§ 3c), Ass.-Gr. Eriophoro-Caricetum lasiocarpae (Vollmar 1947) Passarge 1964 (§ 3d), Drepanoclado revolventis-Caricetum lasiocarpae (Koch 1926) Rybníček in Rybníček et al. 1984, Drepanoclado revolventis-Caricetum diandrae (Kopecký 1960) Rybníček in Rybníček et al. 1984, Scorpidio-Caricetum diandrae sensu auct. non Osvald 1923 (pseudonym)
Diagnostic species: Carex demissa, C. diandra, C. dioica. C. rostrata. Eleocharis quinqueflora. Eriophorum angustifolium. E. latifolium. Juncus alpinoarticulatus. J. bulbosus. Menyanthes trifoliata. Pedicularis palustris. Triglochin palustris. Trichophorum alpinum. Utricularia minor. Valeriana dioica; Aneura pinguis. Bryum pseudotriquetrum. Calliergon giganteum. Campylium stellatum. Fissidens adianthoides. Hamatocaulis vernicosus, Scorpidium revolvens s. l. (S. cossonii), Tomentypnum nitens
Constant species: Carex diandra. C. nigra. C. panicea, C. rostrata, Equisetum palustre. Eriophorum angustifolium. Galium palustre agg., Menyanthes trifoliata. Valeriana dioica; Bryum pseudotriquetrum. Calliergonella cuspidata. Campylium stellatum. Scorpidium revolvens s. l. (S. cossonii)
Dominant species: Caltha palustris, Carex diandra, C. rostrata, Potentilla palustris; Campylium stellatum, Hamatocaulis vernicosus, Scorpidium revolvens s. l. (S. cossonii), Tomentypnum nitens
Formal definition: (Carex diandra cover > 5 % OR Carex lasiocarpa cover > 5 % OR Group Carex lasiocarpa OR Group Carex rostrata) AND (Hamatocaulis vernicosus cover > 5 % OR Scorpidium cossonii cover > 5 % OR Group Eriophorum latifolium) NOT Sphagnum sp. cover > 0 %
Source: Hájek M. & Hájková P. (2011): RBA04 Campylio stellati-Caricetum lasiocarpae Klötzli 1969. In: Chytrý M. (ed.), Vegetace České republiky. 3. Vodní a mokřadní vegetace [Vegetation of the Czech Republic 3. Aquatic and wetland vegetation]. Academia, Praha, pp. 633-636.