Vegetation of the Czech Republic
Association SAA01
Cystopteridetum fragilis Oberdorfer 1938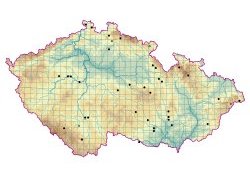 Photo on botanickafotogalerie.cz
This is a calcicolous and slightly nitrophilous vegetation type of shaded sites, dominated by Cystopteris fragilis. This species, however, is not confined to calcareous substrata; it can also grow in other associations of Asplenietea trichomanis on acidic rock outcrops. Along with other small ferns, species of nutrient-rich forests are common. The more species-rich stands of this community are found on natural rock outcrops, where some rare relict species can be found. More common, yet species-poorer, are stands on walls and in other human-made habitats such as quarries.
Orig. (Oberdorfer 1938): Cystopteris fragilis-Assoziation
Syn.: Cystopteris fragilis-Asplenium viride-Gesellschaft Oberdorfer 1936 (§ 3c), Cystopterido-Phyllitidetum Faber 1936 (§ 2b, nomen nudum), Cystopterido filicis-fragilis-Asplenietum viridis Oberdorfer 1949, Ctenidio-Polypodietum Jurko et Peciar 1963, Asplenio rutae-murariae-Gymnocarpietum robertiani Kolbek et Sádlo 1994 p. p.
Diagnostic species: Asplenium trichomanes, Cystopteris fragilis, Epilobium collinum; Bryoerythrophyllum recurvirostrum. Orthothecium intricatum. Tortula muralis
Constant species: Cystopteris fragilis, Taraxacum sect. Ruderalia
Dominant species: Cystopteris fragilis; Marchantia polymorpha
Formal definition: (Cystopteris fragilis cover > 5 % OR Asplenium viride cover > 5 %) NOT Asplenium ruta-muraria cover > 5 % NOT Sesleria caerulea cover > 5 %
Source: Sádlo J. & Chytrý M. (2009): SAA01 Cystopteridetum fragilis Oberdorfer 1938. In: Chytrý M. (ed.), Vegetace České republiky. 2. Ruderální, plevelová, skalní a su»ová vegetace [Vegetation of the Czech Republic 2. Ruderal, weed, rock and scree vegetation]. Academia, Praha, pp. 411-414.