Vegetation of the Czech Republic
Association SAA02
Asplenietum rutae-murario-trichomanis Kuhn 1937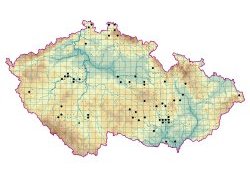 Photo on botanickafotogalerie.cz
This is a community of walls and calcareous rock outcrops on dry, sunny or partially shaded sites. Its dominant species, Asplenium ruta-muraria, is well adapted to desiccation. It is accompanied by other small ferns with low cover. The most common habitats are walls containing mortar; they are usually characterized by the occurrence of slightly nitrophilous species. Natural habitats on calcareous rock outcrops contain some species of dry grasslands and Sesleria caerulea mats, while secondary stands in quarries are usually poor in species.
Orig. (Kuhn 1937): Asplenium Ruta muraria-Asplenium Trichomanes-Assoziation
Syn.: Asplenietum rutae-murario-trichomanis Tüxen 1937 (§ 33, homonym of the same age), Asplenio rutae-murariae-Gymnocarpietum robertiani Kolbek et Sádlo 1994 p. p.
Diagnostic species: Asplenium ruta-muraria, Cystopteris fragilis. Encalypta streptocarpa. Tortula muralis
Constant species: Asplenium ruta-muraria, Taraxacum sect. Ruderalia
Dominant species: Asplenium ruta-muraria
Formal definition: Asplenium ruta-muraria cover > 5 % NOT Corydalis lutea cover > 5 % NOT Cymbalaria muralis cover > 5 % NOT Sesleria caerulea cover > 5 %
Source: Sádlo J. & Chytrý M. (2009): SAA02 Asplenietum rutae-murario-trichomanis Kuhn 1937. In: Chytrý M. (ed.), Vegetace České republiky. 2. Ruderální, plevelová, skalní a su»ová vegetace [Vegetation of the Czech Republic 2. Ruderal, weed, rock and scree vegetation]. Academia, Praha, pp. 414-417.