Vegetation of the Czech Republic
Association SAC01
Woodsio ilvensis-Asplenietum septentrionalis Br.-Bl. ex Tüxen 1937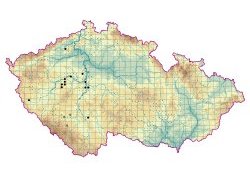 Photo on botanickafotogalerie.cz
This association includes vegetation on sun-exposed and dry outcrops of acidic rocks. A typical species is Asplenium septentrionale, in some places accompanied by the rare fern Woodsia ilvensis. Other species mainly include widespread generalists of acidic soils, although some rare relict species can also be found in some places. This vegetation type is rarely encountered in some areas of the Bohemian Massif, most often in deep river valleys.
Nomen inversum propositum
Orig. (Tüxen 1937): Asplenium septentrionale-Woodsia ilvensis-Ass. (Br.-Bl. 1926 n. n.) Tx. 1937
Syn.: Asplenio septentrionalis-Silenetum rupestris Malcuit 1929 (§ 2b, nomen nudum), Asplenium septentrionale-Silene rupestris Oberdorfer 1934 (§ 3c), Asplenietum septentrionalis Schwickerath 1944, Diantho gratianopolitani-Aurinietum saxatilis Sádlo 1998 p. p.
Diagnostic species: Asplenium septentrionale, Aurinia saxatilis subsp. arduini. Rumex acetosella. Viola tricolor .V. tricolor subsp. saxatilis), Woodsia ilvensis. Cladonia pyxidata, Polytrichum piliferum
Constant species: Asplenium septentrionale, Rumex acetosella; Ceratodon purpureus. Cladonia pyxidata, Polytrichum piliferum
Dominant species: Woodsia ilvensis
Formal definition: (Asplenium septentrionale cover > 5 % OR Woodsia ilvensis cover > 5 %) NOT Group Acinos arvensis
Source: Sádlo J. & Chytrý M. (2009): SAC01 Woodsio ilvensis-Asplenietum septentrionalis Br.-Bl. ex Tüxen 1937. In: Chytrý M. (ed.), Vegetace České republiky. 2. Ruderální, plevelová, skalní a su»ová vegetace [Vegetation of the Czech Republic 2. Ruderal, weed, rock and scree vegetation]. Academia, Praha, pp. 424-426.