Vegetation of the Czech Republic
Association SAC02
Festuco pallentis-Saxifragetum rosaceae Stöcker 1962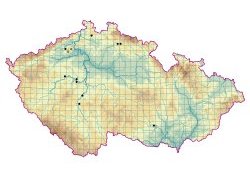 Photo on botanickafotogalerie.cz
This association includes vegetation on non-calcareous rock outcrops or stabilized but hardly soil-filled screes which contain the relict species Saxifraga rosacea. Most of these habitats are of natural origin and have been open for millenia. On some screes, this vegetation type occurs in places with streams of cold air emerging from the talus. It is found on several sites in northern and central Bohemia and very rarely in south-western Moravia.
Orig. (Stöcker 1962): Festuco-Saxifragetum ass. nov. (Festuca cinerea subsp. pallens = F. pallens. Saxifraga decipiens = S. rosacea)
Syn.: Festuco ovinae-Saxifragetum decipientis Stöcker 1962 (fantom), Cardaminopsio halleri-Saxifragetum steinmannii Kolbek 2000
Diagnostic species: Asplenium trichomanes. Cystopteris fragilis. Epilobium collinum. Polypodium vulgare s. l., Saxifraga rosacea subsp. sponhemica, S. rosacea subsp. steinmannii, Valeriana stolonifera subsp. angustifolia; Encalypta streptocarpa
Constant species: Campanula rotundifolia agg., Cystopteris fragilis. Geranium robertianum. Poa nemoralis. Saxifraga rosacea subsp. sponhemica; Hypnum cupressiforme s. l. (predominantly H. cupressiforme s. str.)
Dominant species: Festuca ovina, Saxifraga rosacea subsp. sponhemica, S. rosacea subsp. steinmannii; Dicranum scoparium
Formal definition: Saxifraga rosacea cover > 5 % NOT Group Asplenium ruta-muraria NOT Group Festuca pallens NOT Asplenium ruta-muraria cover > 5 % NOT Sesleria caerulea cover > 5 %
Source: Sádlo J. & Chytrý M. (2009): SAC02 Festuco pallentis-Saxifragetum rosaceae Stöcker 1962. In: Chytrý M. (ed.), Vegetace České republiky. 2. Ruderální, plevelová, skalní a su»ová vegetace [Vegetation of the Czech Republic 2. Ruderal, weed, rock and scree vegetation]. Academia, Praha, pp. 426-429.