Vegetation of the Czech Republic
Association SAD01
Cryptogrammetum crispae Oberdorfer 1957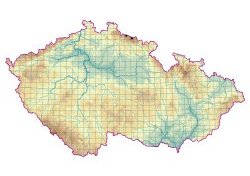 Photo on botanickafotogalerie.cz
This is an open and species-poor vegetation type with the boreo-alpine, continental species Cryptogramma crispa, occurring on stabilized but not soil-filled screes of siliceous rocks. It occurs rarely in the subalpine to alpine belt of the glacial cirques in the Krkonoąe Mountains.
Orig. (Oberdorfer 1957): Cryptogrammetum Jenny-Lips 30 (Cryptogramma crispa)
Syn.: Allosuretum crispi Lüdi 1921 (§ 2b, nomen nudum), Cryptogrammetum Jenny-Lips 1930 (fantom)
Diagnostic species: Cryptogramma crispa; Racomitrium sudeticum
Constant species: Avenella flexuosa, Calamagrostis villosa, Cryptogramma crispa, Deschampsia cespitosa; Cladonia pyxidata. Cynodontium polycarpon, Racomitrium sudeticum
Dominant species: –
Formal definition: Cryptogramma crispa cover > 5 %
Source: Sádlo J. & Chytrý M. (2009): SAD01 Cryptogrammetum crispae Oberdorfer 1957. In: Chytrý M. (ed.), Vegetace České republiky. 2. Ruderální, plevelová, skalní a su»ová vegetace [Vegetation of the Czech Republic 2. Ruderal, weed, rock and scree vegetation]. Academia, Praha, pp. 433-434.