Vegetation of the Czech Republic
Association SBA01
Cymbalarietum muralis Oberdorfer 1977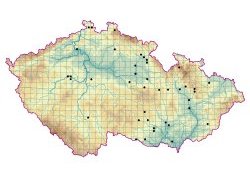 Photo on botanickafotogalerie.cz
This species-poor plant community dominated by Cymbalaria muralis occurs on sunny or partially shaded vertical surfaces of walls in warm areas of the Czech Republic, most frequently on castles and castle ruins, old urban fortifications, in chateau gardens, urban parks and garden suburbs. C. muralis is a species of southern European origin and occurs as an alien in the Czech Republic. In some places it has been deliberately planted but it tends to spread spontaneously to suitable habitats in its surroundings.
Orig. (Oberdorfer 1977): Cymbalarietum muralis Görs 66
Syn.: Cymbalaria muralis-Gesellschaft Görs 1966 (§ 3c), Cymbalarietum muralis Görs 1966 (fantom), Cymbalarietum muralis Hilbig et Reichhoff 1977 (§ 33, homonym of the same age), Cymbalario-Corydalidetum luteae Passarge 1999 p. p.
Diagnostic species: Asplenium ruta-muraria. Chelidonium majus, Cymbalaria muralis; Tortula muralis
Constant species: Chelidonium majus, Cymbalaria muralis, Taraxacum sect. Ruderalia
Dominant species: Cymbalaria muralis
Formal definition: Cymbalaria muralis cover > 5 % NOT Corydalis lutea cover > 5%
Source: Láníková D. (2009): SBA01 Cymbalarietum muralis Oberdorfer 1977. In: Chytrý M. (ed.), Vegetace České republiky. 2. Ruderální, plevelová, skalní a su»ová vegetace [Vegetation of the Czech Republic 2. Ruderal, weed, rock and scree vegetation]. Academia, Praha, pp. 444-446.