Vegetation of the Czech Republic
Association TBA02
Spergulario marginatae-Suaedetum prostratae Vicherek in Moravec et al. 1995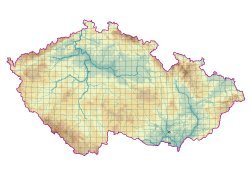 Photo on botanickafotogalerie.cz
The association Spergulario-Suaedetum includes open, species-poor stands of Suaeda prostrata, occurring on similar (albeit nitrogen-richer) soils as Salicornietum prostratae. In the past it was found in several localities of southern Moravia, but it disappeared in the 1970s.
Orig. (Moravec et al. 1995): Spergulario marginatae-Suaedetum prostratae Vicherek ass. nov.
Syn.: Suaedetum pannonicae sensu Vicherek 1973 non (Soó 1933) Wendelberger 1943 (pseudonym)
Diagnostic species: Aster tripolium subsp. pannonicus, Atriplex prostrata subsp. latifolia, Juncus gerardii, Plantago maritima, Puccinellia distans, Salicornia prostrata, Spergularia maritima, S. salina, Suaeda prostrata
Constant species: Puccinellia distans, Spergularia maritima, Suaeda prostrata
Dominant species: Suaeda prostrata
Formal definition: Suaeda prostrata cover > 25 %
Source: Šumberová K. (2007): TBA02 Spergulario marginatae-Suaedetum prostratae Vicherek in Moravec et al. 1995. In: Chytrý M. (ed.), Vegetace České republiky. 1. Travinná a keříčková vegetace [Vegetation of the Czech Republic. 1. Grassland and Heathland Vegetation]. Academia, Praha, pp. 147-149.