Vegetation of the Czech Republic
Association TCB03
Agrostio stoloniferae-Juncetum ranarii Vicherek 1962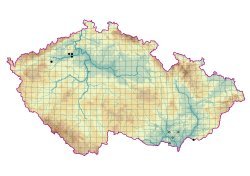 Photo on botanickafotogalerie.cz
This association is typical of slightly moist, saline soils with frequently disturbed surface. It occurs in wet depressions, such as around mineral springs and temporarily flooded habitats in arable fields as well as around small pools in places disturbed by heavy vehicles. It is found in dry areas of northern Bohemia (Ohře river basin) and in southern Moravia.
Orig. (Vicherek 1962a): Agrostideto-Juncetum ranarii as. nov. (Agrostis stolonifera)
Syn.: Agrostis alba-Carex distans Soó 1939 (§ 3c), Agrostio-Caricetum secalinae Vicherek 1973, Meliloto-Caricetum otrubae Vicherek 1973
Diagnostic species: Agrostis gigantea, Aster tripolium subsp. pannonicus, Atriplex prostrata subsp. latifolia, Bolboschoenus maritimus s. l., Carex distans, C. otrubae, C. secalina, Chenopodium glaucum, Euphorbia platyphyllos, Festuca arundinacea, Inula britannica, Juncus compressus, J. gerardii, J. inflexus, J. ranarius, Lotus tenuis, Melilotus dentatus, Potentilla anserina, Puccinellia distans, Pulegium vulgare, Samolus valerandi, Trifolium fragiferum, Veronica anagallis-aquatica
Constant species: Agrostis stolonifera, Carex otrubae, C. secalina, Cirsium arvense, Elytrigia repens, Juncus ranarius, Melilotus dentatus, Plantago major, Potentilla anserina, Ranunculus repens, Rumex crispus, Tripleurospermum inodorum
Dominant species: C. secalina
Formal definition: Group Carex otrubae
Source: Novák J. & Šumberová K. (2007): TCB03 Agrostio stoloniferae-Juncetum ranarii Vicherek 1962. In: Chytrý M. (ed.), Vegetace České republiky. 1. Travinná a keříčková vegetace [Vegetation of the Czech Republic. 1. Grassland and Heathland Vegetation]. Academia, Praha, pp. 162-164.