Vegetation of the Czech Republic
Association TDA01
Pastinaco sativae-Arrhenatheretum elatioris Passarge 1964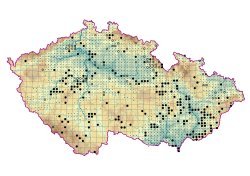 Photo on botanickafotogalerie.cz
This association includes stands of a widespread and common meadow type dominated by tall grass Arrhenatherum elatius. The stands occur on mesic, nutrient-rich or fertilized soils at lower to middle altitudes. These meadows are mown twice, occasionally three times a year.
Orig. (Passarge 1964): Pastinaco-Arrhenatheretum (Knapp 54) ass. nov. (Pastinaca sativa, Arrhenatherum elatius)
Syn.: Arrhenatheretum elatioris Braun 1915 (§ 36, nomen ambiguum)
Diagnostic species: Trisetum flavescens
Constant species: Achillea millefolium agg. (predominantly A. millefolium s. str. a A. pratensis), Alopecurus pratensis, Arrhenatherum elatius, Campanula patula, Cerastium holosteoides subsp. triviale, Dactylis glomerata, Festuca pratensis, F. rubra agg., Galium mollugo agg. (predominantly G. album subsp. album), Geranium pratense, Heracleum sphondylium, Knautia arvensis agg., Lathyrus pratensis, Leucanthemum vulgare agg., Lotus corniculatus, Plantago lanceolata, Poa pratensis s. l., Ranunculus acris, Rumex acetosa, Taraxacum sect. Ruderalia, Trifolium pratense, Trisetum flavescens, Veronica chamaedrys agg. (predominantly V. chamaedrys s. str.)
Dominant species: Alopecurus pratensis, Arrhenatherum elatius, Bromus erectus, Geranium pratense, Poa pratensis s. l., Trisetum flavescens
Formal definition: Group Arrhenatherum elatius AND Group Leucanthemum vulgare NOT Group Anthoxanthum odoratum NOT Group Brachypodium pinnatum NOT Group Cynosurus cristatus NOT Group Serratula tinctoria NOT Festuca rupicola cover > 25 %
Source: Kučera T. (2007): TDA01 Pastinaco sativae-Arrhenatheretum elatioris Passarge 1964. In: Chytrý M. (ed.), Vegetace České republiky. 1. Travinná a keříčková vegetace [Vegetation of the Czech Republic. 1. Grassland and Heathland Vegetation]. Academia, Praha, pp. 170-172.