Vegetation of the Czech Republic
Association TDA02
Ranunculo bulbosi-Arrhenatheretum elatioris Ellmauer in Mucina et al. 1993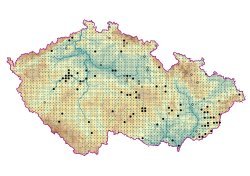 Photo on botanickafotogalerie.cz
This association of Arrhenatherum elatius dominated meadows occurs on slightly drier and more nutrient-poor soils than the Pastinaco sativae-Arrhenatheretum elatioris. It is most common in low-lying, warm colline landscapes across the Czech Republic, but it is absent from higher altitudes. Management includes mowing for hay once or twice a year.
Orig. (Mucina et al. 1993a): Ranunculo bulbosi-Arrhenatheretum Ellmauer ass. nova (Arrhenatherum elatius)
Syn.: Arrhenatheretum elatioris Scherrer 1925 (§ 31, younger homonym: non Arrhenatheretum elatioris Braun 1915)
Diagnostic species: Arrhenatherum elatius, Campanula patula, Leontodon hispidus, Leucanthemum vulgare agg., Pimpinella saxifraga, Plantago media, Trisetum flavescens
Constant species: Achillea millefolium agg. (predominantly A. millefolium s. str. a A. pratensis), Agrostis capillaris, Alchemilla vulgaris s. l., Anthoxanthum odoratum s. l. (A. odoratum s. str.), Arrhenatherum elatius, Briza media, Campanula patula, Centaurea jacea, Cerastium holosteoides subsp. triviale, Dactylis glomerata, Daucus carota, Festuca pratensis, F. rubra agg., Galium mollugo agg. (predominantly G. album subsp. album), G. verum agg. (predominantly G. verum s. str.), Holcus lanatus, Knautia arvensis agg., Lathyrus pratensis, Leontodon hispidus, Leucanthemum vulgare agg., Lotus corniculatus, Luzula campestris agg. (predominantly L. campestris s. str.), Pimpinella saxifraga, Plantago lanceolata, P. media, Poa pratensis s. l., Ranunculus acris, Rumex acetosa, Taraxacum sect. Ruderalia, Thymus pulegioides, Trifolium pratense, Trisetum flavescens, Veronica chamaedrys agg. (predominantly V. chamaedrys s. str.), Vicia cracca
Dominant species: Arrhenatherum elatius, Festuca rubra agg., Poa pratensis s. l., Trisetum flavescens
Formal definition: Group Anthoxanthum odoratum AND Group Arrhenatherum elatius AND Group Leucanthemum vulgare AND Group Plantago media NOT Group Brachypodium pinnatum NOT Group Cynosurus cristatus NOT Group Geranium pratense NOT Group Serratula tinctoria NOT Group Viola canina
Source: Kučera T. (2007): TDA02 Ranunculo bulbosi-Arrhenatheretum elatioris Ellmauer in Mucina et al. 1993. In: Chytrý M. (ed.), Vegetace České republiky. 1. Travinná a keříčková vegetace [Vegetation of the Czech Republic. 1. Grassland and Heathland Vegetation]. Academia, Praha, pp. 173-175.