Vegetation of the Czech Republic
Association TDA03
Poo-Trisetetum flavescentis Knapp ex Oberdorfer 1957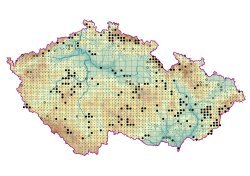 Photo on botanickafotogalerie.cz
This association of mesic meadows includes stands at higher altitudes, usually on more acidic and nutrient-poor soils than in the habitats of Pastinaco sativae-Arrhenatheretum elatioris. At higher altitudes, Arrhenatherum elatius becomes less abundant than in the warm lowlands and low-altitude colline landscapes, which results in the increase of relative proportion of the biomass of medium-tall grasses such as Agrostis capillaris, Festuca rubra agg. and Trisetum flavescens.
Orig. (Oberdorfer 1957): Poa-Trisetetum (Knapp 51) (Poa pratensis, P. trivialis, Trisetum flavescens)
Syn.: Trifolio-Festucetum rubrae Oberdorfer 1957 prov. (§ 3b), Phyteumato-Festucetum Passarge 1968
Diagnostic species: Campanula patula, Leucanthemum vulgare agg., Trisetum flavescens
Constant species: Achillea millefolium agg. (Achillea millefolium s. str. a A. pratensis), Agrostis capillaris, Alchemilla vulgaris s. l., Alopecurus pratensis, Anthoxanthum odoratum s. l. (A. odoratum s. str.), Arrhenatherum elatius, Campanula patula, Cerastium holosteoides subsp. triviale, Dactylis glomerata, Festuca pratensis, F. rubra agg., Galium mollugo agg. (predominantly G. album subsp. album), Holcus lanatus, Knautia arvensis agg., Lathyrus pratensis, Leontodon hispidus, Leucanthemum vulgare agg., Lotus corniculatus, Luzula campestris agg. (predominantly L. campestris s. str.), Plantago lanceolata, Poa pratensis s. l., Ranunculus acris, Rumex acetosa, Taraxacum sect. Ruderalia, Trifolium pratense, T. repens, Trisetum flavescens, Veronica chamaedrys agg. (V. chamaedrys s. str.), Vicia cracca
Dominant species: Agrostis capillaris, Arrhenatherum elatius, Festuca rubra agg., Poa pratensis s. l., Sanguisorba officinalis, Trisetum flavescens; Rhytidiadelphus squarrosus
Formal definition: Group Anthoxanthum odoratum AND Group Arrhenatherum elatius AND Group Leucanthemum vulgare NOT Group Brachypodium pinnatum NOT Group Cynosurus cristatus NOT Group Geranium pratense NOT Group Geranium sylvaticum NOT Group Plantago media NOT Group Serratula tinctoria NOT Group Viola canina
Source: Kučera T. (2007): TDA03 Poo-Trisetetum flavescentis Knapp ex Oberdorfer 1957. In: Chytrý M. (ed.), Vegetace České republiky. 1. Travinná a keříčková vegetace [Vegetation of the Czech Republic. 1. Grassland and Heathland Vegetation]. Academia, Praha, pp. 175-178.