Vegetation of the Czech Republic
Association TDC01
Lolio perennis-Cynosuretum cristati Tüxen 1937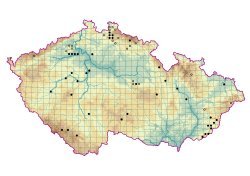 Photo on botanickafotogalerie.cz
This association includes low-growing stands of nutrient-demanding, disturbance-adapted species on rich mesic soils. They are managed either as intensive pastures for cattle and other domestic animals or as frequently cut lawns in city parks. Compared to the pastures, the city lawns are poorer in species due to the absence of some grazing-adapted plants. Although plant biomass is frequently removed from pastures (but not from city lawns), there is also the high nutrient input, which supports post-disturbance regeneration. This vegetation type is distributed throughout the Czech Republic, although it has not been well documented with relevés.
Orig. (Tüxen 1937): Lolieto-Cynosuretum (Br.-Bl. et De Leeuw 1937) Tx. 1937 (Lolium perenne, Cynosurus cristatus)
Syn.: Lolium-Cynosurus-Weide Braun-Blanquet et De Leeuw 1936 (§ 3c), Festuco-Cynosuretum Tüxen in Büker 1942, Caro-Poëtum pratensis Blažková 1967
Diagnostic species: Bellis perennis, Carum carvi, Cynosurus cristatus, Leontodon autumnalis, Lolium perenne, Plantago major, Trifolium pratense, T. repens
Constant species: Achillea millefolium agg. (predominantly A. millefolium s. str. a A. pratensis), Agrostis capillaris, Alchemilla vulgaris s. l., Bellis perennis, Cerastium holosteoides subsp. triviale, Cynosurus cristatus, Dactylis glomerata, Festuca pratensis, F. rubra agg., Holcus lanatus, Leontodon autumnalis, L. hispidus, Lolium perenne, Lotus corniculatus, Plantago lanceolata, P. major, Poa pratensis s. l., Prunella vulgaris, Ranunculus acris, R. repens, Rumex acetosa, Taraxacum sect. Ruderalia, Trifolium pratense, T. repens, Veronica chamaedrys agg. (V. chamaedrys s. str.); Brachythecium rutabulum
Dominant species: Agrostis capillaris, Festuca pratensis, F. rubra agg., Poa trivialis, Trifolium repens
Formal definition: Group Cynosurus cristatus AND Group Lolium perenne NOT Juncus tenuis cover > 5 %
Source: Chytrý M. & Blažková D. (2007): TDC01 Lolio perennis-Cynosuretum cristati Tüxen 1937. In: Chytrý M. (ed.), Vegetace České republiky. 1. Travinná a keříčková vegetace [Vegetation of the Czech Republic. 1. Grassland and Heathland Vegetation]. Academia, Praha, pp. 197-200.