Vegetation of the Czech Republic
Association TDE04
Cnidio dubii-Deschampsietum cespitosae Passarge 1960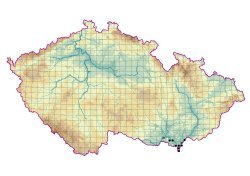 Photo on botanickafotogalerie.cz
This association includes flooded meadows along large rivers in dry lowlands. These meadows are found in slightly higher places within the floodplain microtopography than those of the association Lathyro palustris-Gratioletum officinalis. Spring floods accordingly last only for a few days and summer drought is more pronounced. The stands of this association contain several species showing continental distribution. In the Czech Republic this vegetation is restricted to the floodplains of the Dyje and Morava rivers in southern Moravia.
Orig. (Passarge 1960): Cnidio-Deschampsietum caespitosae, Cnidio-Deschampsietum (Walter 50) Hundt (54) 58 (Cnidium venosum = C. dubium)
Syn.: Cnidio-Violetum elatioris Walther in Tüxen 1954 (§ 3f), Deschampsia cespitosa-Cnidium dubium-Gesellschaft Hundt 1958 (§ 3d), Violo-Cnidietum Walther ex Philippi 1960 (fantom), Cnidium dubium-Viola pumila Gesellschaft Korneck 1962, Cnidio venosi-Jaceetum angustifoliae Vicherek 1962, Gratiolo officinalis-Caricetum suzae Balátová-Tuláčková 1966, Serratulo-Festucetum commutatae Balátová-Tuláčková 1966 p. p., Cnidio dubii-Violetum pumilae Balátová-Tuláčková 1969
Diagnostic species: Cardamine matthioli, Carex hirta, C. melanostachya, C. praecox, Cirsium arvense, Cnidium dubium, Colchicum autumnale, Elytrigia repens, Galium boreale subsp. boreale, Gratiola officinalis, Lathyrus pratensis, Myosotis ramosissima, Ornithogalum kochii, Potentilla reptans, Pseudolysimachion maritimum, Scutellaria hastifolia, Serratula tinctoria, Silaum silaus, Valerianella locusta, Veronica arvensis, Vicia tetrasperma, Viola pumila; Eurhynchium pulchellum
Constant species: Achillea millefolium agg. (predominantly A. millefolium s. str. a A. pratensis), Ajuga reptans, Alopecurus pratensis, Anthoxanthum odoratum s. l. (A. odoratum s. str.), Arrhenatherum elatius, Calamagrostis epigejos, Campanula patula, Cardamine matthioli, Carex hirta, C. praecox, Centaurea jacea, Cerastium holosteoides subsp. triviale, Cirsium arvense, Cnidium dubium, Colchicum autumnale, Dactylis glomerata, Elytrigia repens, Equisetum arvense, Festuca pratensis, Galium boreale subsp. boreale, G. mollugo agg. (predominantly G. album subsp. album), Glechoma hederacea s. l. (G. hederacea s. str.), Lathyrus pratensis, Leucanthemum vulgare agg., Lychnis flos-cuculi, Lysimachia nummularia, Myosotis ramosissima, Plantago lanceolata, Poa pratensis s. l., Potentilla reptans, Ranunculus acris, R. auricomus agg., R. repens, Rumex acetosa, Sanguisorba officinalis, Serratula tinctoria, Stellaria graminea, Taraxacum sect. Ruderalia, Trifolium pratense, Veronica arvensis, V. chamaedrys agg. (predominantly V. chamaedrys s. str.), Vicia tetrasperma, Viola pumila; Brachythecium rutabulum, Plagiomnium affine s. l.
Dominant species: Festuca pratensis
Formal definition: Group Viola pumila NOT Molinia caerulea s. l. cover > 25 %
Source: Šumberová K. (2007): TDE04 Cnidio dubii-Deschampsietum cespitosae Passarge 1960. In: Chytrý M. (ed.), Vegetace České republiky. 1. Travinná a keříčková vegetace [Vegetation of the Czech Republic. 1. Grassland and Heathland Vegetation]. Academia, Praha, pp. 233-236.