Vegetation of the Czech Republic
Association TDF01
Angelico sylvestris-Cirsietum oleracei Tüxen 1937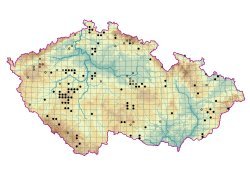 Photo on botanickafotogalerie.cz
This association occurs in wet places that are well supplied with nutrients and bases. Such productive habitats support development of herbaceous stands dominated by Cirsium oleraceum, which have the highest biomass of all mown types of Calthion palustris meadows. They are distributed throughout the Czech Republic, but they appear most commonly at middle altitudes.
Nomen inversum propositum
Orig. (Tüxen 1937): Cirsium oleraceum-Angelica silvestris-Ass.
Diagnostic species: Cirsium oleraceum, Filipendula ulmaria, Geranium palustre, Scirpus sylvaticus
Constant species: Alopecurus pratensis, Angelica sylvestris, Anthoxanthum odoratum s. l. (A. odoratum s. str.), Caltha palustris, Cardamine pratensis agg. (C. pratensis s. str.), Carex nigra, C. panicea, Cirsium oleraceum, C. palustre, Deschampsia cespitosa, Equisetum palustre, Festuca pratensis, F. rubra agg., Filipendula ulmaria, Galium uliginosum, Holcus lanatus, Juncus effusus, Lathyrus pratensis, Lychnis flos-cuculi, Myosotis palustris agg., Poa pratensis s. l., P. trivialis, Ranunculus acris, R. auricomus agg., R. repens, Rumex acetosa, Sanguisorba officinalis, Scirpus sylvaticus
Dominant species: Alopecurus pratensis, Bistorta major, Caltha palustris, Carex acuta, Cirsium oleraceum, Geranium palustre, Holcus lanatus, Scirpus sylvaticus; Brachythecium rutabulum, Rhytidiadelphus squarrosus
Formal definition: Group Caltha palustris AND Group Cirsium oleraceum NOT Group Cirsium rivulare NOT Carex cespitosa cover > 25 % NOT Filipendula ulmaria cover > 25 %
Source: Hájková P. & Hájek M. (2007): TDF01 Angelico sylvestris-Cirsietum oleracei Tüxen 1937. In: Chytrý M. (ed.), Vegetace České republiky. 1. Travinná a keříčková vegetace [Vegetation of the Czech Republic. 1. Grassland and Heathland Vegetation]. Academia, Praha, pp. 241-244.