Vegetation of the Czech Republic
Association TDF02
Cirsietum rivularis Nowiński 1927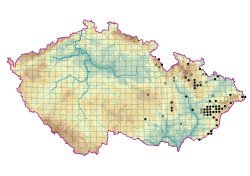 Photo on botanickafotogalerie.cz
Wet meadows with Cirsium rivulare are restricted to the eastern part of the Czech Republic. They are most frequent in the flysch mountain ranges of the Western Carpathians and in the Nízký Jeseník and Hrubý Jeseník Mountains of northern Moravia. Like the Angelico sylvestris-Cirsietum oleracei meadows, they are confined to soils that are well supplied with nutrients and bases. On the flysch bedrock, they are frequently found around springs and in seepage habitats.
Orig. (Nowiński 1927): Cirsietum rivularis
Syn.: Trollio-Cirsietum salisburgensis (Kuhn 1937) Oberdorfer 1957
Diagnostic species: Cirsium rivulare, Cruciata glabra, Dactylorhiza majalis, Lychnis flos-cuculi
Constant species: Alchemilla vulgaris s. l., Alopecurus pratensis, Angelica sylvestris, Anthoxanthum odoratum s. l. (A. odoratum s. str.), Briza media, Caltha palustris, Carex nigra, C. pallescens, C. panicea, Cerastium holosteoides subsp. triviale, Cirsium rivulare, Cruciata glabra, Dactylis glomerata, Dactylorhiza majalis, Deschampsia cespitosa, Equisetum arvense, Festuca pratensis, F. rubra agg., Holcus lanatus, Juncus conglomeratus, J. effusus, Lathyrus pratensis, Lychnis flos-cuculi, Lysimachia nummularia, Myosotis palustris agg., Poa pratensis s. l., P. trivialis, Potentilla erecta, Prunella vulgaris, Ranunculus acris, R. repens, Rumex acetosa, Sanguisorba officinalis, Scirpus sylvaticus, Veronica chamaedrys agg. (V. chamaedrys s. str.), Vicia cracca; Calliergonella cuspidata, Climacium dendroides
Dominant species: Carex paniculata, Cirsium rivulare, Festuca rubra agg., Scirpus sylvaticus; Calliergonella cuspidata, Climacium dendroides
Formal definition: (Cirsium rivulare cover > 25 % OR Group Cirsium rivulare) AND Group Lychnis flos-cuculi
Source: Hájková P. & Hájek M. (2007): TDF02 Cirsietum rivularis Nowiński 1927. In: Chytrý M. (ed.), Vegetace České republiky. 1. Travinná a keříčková vegetace [Vegetation of the Czech Republic. 1. Grassland and Heathland Vegetation]. Academia, Praha, pp. 244-247.