Vegetation of the Czech Republic
Association TDF04
Crepido paludosae-Juncetum acutiflori Oberdorfer 1957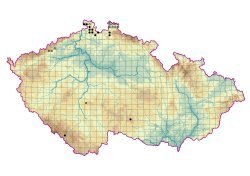 Photo on botanickafotogalerie.cz
These meadows occur on wet and base-poor soils. In some places a luxuriant moss layer can develop and a shallow peat layer may form on the soil surface. In contrast to the Angelico sylvestris-Cirsietum palustris, these meadows contain several species of suboceanic distribution, including the dominating Juncus acutiflorus. They are rather common in a restricted submontane region of northern Bohemia, but small isolated stands also occur at higher altitudes of the southern part of the Bohemian Massif.
Orig. (Oberdorfer 1957): Crepido-Juncetum acutiflori (Br.-Bl. 15) (Juncetum acutiflori Oberd. 38) (Crepis paludosa)
Syn.: Juncetum sylvatici Braun 1915, Juncetum acutiflori sensu auct. non Braun 1915 (pseudonym)
Diagnostic species: Achillea ptarmica, Caltha palustris, Cirsium palustre, Epilobium obscurum, Galium uliginosum, Juncus acutiflorus, Lotus uliginosus, Myosotis palustris agg., Ranunculus auricomus agg.
Constant species: Achillea ptarmica, Agrostis canina, Alchemilla vulgaris s. l., Alopecurus pratensis, Angelica sylvestris, Anthoxanthum odoratum s. l. (A. odoratum s. str.), Caltha palustris, Cardamine pratensis agg. (C. pratensis s. str.), Carex nigra, C. panicea, Cirsium palustre, Crepis paludosa, Festuca rubra agg., Galium palustre agg., G. uliginosum, Holcus lanatus, Juncus acutiflorus, J. conglomeratus, J. effusus, Lathyrus pratensis, Lotus uliginosus, Lychnis flos-cuculi, Myosotis palustris agg., Plantago lanceolata, Poa trivialis, Ranunculus acris, R. auricomus agg., R. repens, Rumex acetosa, Scirpus sylvaticus, Viola palustris; Climacium dendroides, Rhytidiadelphus squarrosus
Dominant species: Agrostis canina, Bistorta major, Caltha palustris, Juncus acutiflorus, J. filiformis, Lotus uliginosus, Viola palustris; Calliergonella cuspidata, Rhytidiadelphus squarrosus
Formal definition: Juncus acutiflorus cover > 5 % AND Group Caltha palustris NOT Group Cirsium oleraceum
Source: Hájková P. & Hájek M. (2007): TDF04 Crepido paludosae-Juncetum acutiflori Oberdorfer 1957. In: Chytrý M. (ed.), Vegetace České republiky. 1. Travinná a keříčková vegetace [Vegetation of the Czech Republic. 1. Grassland and Heathland Vegetation]. Academia, Praha, pp. 255-257.