Vegetation of the Czech Republic
Association TDF08
Scirpetum sylvatici Ralski 1931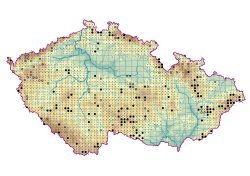 Photo on botanickafotogalerie.cz
Vegetation dominated by Scirpus sylvaticus occurs on wet, usually slightly acidic soils. Due to their poor suitability for hay making, these grasslands are usually mown only where they occur in a mosaic with more valuable meadow types. They are common in montane and submontane areas throughout the Czech Republic.
Orig. (Ralski 1931): Scirpetum silvaticae
Syn.: Scirpetum sylvatici Schwickerath 1944 prov., Scirpetum sylvatici Knapp 1946, Junco filiformis-Scirpetum Oberdorfer 1957, Polygono-Scirpetum (Schwickerath 1944) Oberdorfer 1957
Diagnostic species: Scirpus sylvaticus
Constant species: Alopecurus pratensis, Angelica sylvestris, Caltha palustris, Carex nigra, Cirsium palustre, Equisetum palustre, Galium palustre agg., G. uliginosum, Juncus effusus, Myosotis palustris agg., Poa trivialis, Ranunculus acris, R. repens, Rumex acetosa, Scirpus sylvaticus
Dominant species: Caltha palustris, Scirpus sylvaticus
Formal definition: Scirpus sylvaticus cover > 50 % AND (Group Caltha palustris OR Group Cirsium oleraceum)
Source: Hájková P. & Hájek M. (2007): TDF08 Scirpetum sylvatici Ralski 1931. In: Chytrý M. (ed.), Vegetace České republiky. 1. Travinná a keříčková vegetace [Vegetation of the Czech Republic. 1. Grassland and Heathland Vegetation]. Academia, Praha, pp. 264-266.