Vegetation of the Czech Republic
Association TDF09
Caricetum cespitosae Steffen 1931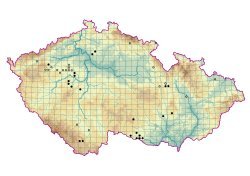 Photo on botanickafotogalerie.cz
The tussock-forming sedge Carex cespitosa forms large hummocks that are difficult to mow, and thus most of its stands are unmanaged. Soils are wet and rich in bases and nutrients. This vegetation type occurs in drier and warmer areas than most of other associations of the alliance Calthion palustris. Scattered localities are found in colline landscapes at fringes of the Bohemian Massif.
Orig. (Steffen 1931): Caricetum caespitosae
Diagnostic species: Caltha palustris, Carex cespitosa, Cerastium lucorum, Lathyrus pratensis
Constant species: Alopecurus pratensis, Angelica sylvestris, Caltha palustris, Cardamine pratensis agg. (C. pratensis s. str.), Carex cespitosa, Cirsium palustre, Deschampsia cespitosa, Equisetum palustre, Festuca pratensis, F. rubra agg., Filipendula ulmaria, Galium uliginosum, Holcus lanatus, Lathyrus pratensis, Lychnis flos-cuculi, Lysimachia nummularia, Myosotis palustris agg., Poa pratensis s. l., P. trivialis, Ranunculus acris, R. auricomus agg., R. repens, Rumex acetosa, Sanguisorba officinalis, Scirpus sylvaticus
Dominant species: Carex cespitosa, Cirsium oleraceum, Ranunculus repens
Formal definition: Carex cespitosa cover > 25 % AND (Group Caltha palustris OR Group Cirsium oleraceum)
Source: Hájková P. & Hájek M. (2007): TDF09 Caricetum cespitosae Steffen 1931. In: Chytrý M. (ed.), Vegetace České republiky. 1. Travinná a keříčková vegetace [Vegetation of the Czech Republic. 1. Grassland and Heathland Vegetation]. Academia, Praha, pp. 267-269.