Vegetation of the Czech Republic
Association TDF10
Scirpo sylvatici-Caricetum brizoidis Kučera et al. 1994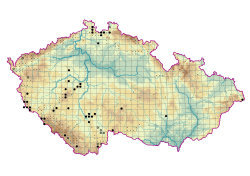 Photo on botanickafotogalerie.cz
Species-poor grasslands dominated by Carex brizoides develop from abandoned wet meadows on acidic, nutrient-poor soils. Strong litter accumulation is a characteristic feature, preventing establishment of most species and delaying succession of woody vegetation. Some of these stands remain in a relatively stable state for several decades. This vegetation is distributed at middle altitudes of the Bohemian Massif, and it is rather common in southern, western and northern Bohemia.
Orig. (Kučera et al. 1994): Scirpo-Caricetum brizoidis ass. nova (Scirpus sylvaticus)
Diagnostic species: Carex brizoides, Lotus uliginosus
Constant species: Agrostis capillaris, Alopecurus pratensis, Angelica sylvestris, Caltha palustris, Carex brizoides, C. nigra, Cirsium palustre, Deschampsia cespitosa, Festuca rubra agg., Filipendula ulmaria, Galium uliginosum, Holcus lanatus, Juncus effusus, Lathyrus pratensis, Lotus uliginosus, Lychnis flos-cuculi, Poa pratensis s. l., P. trivialis, Ranunculus acris, R. auricomus agg., R. repens, Rumex acetosa, Sanguisorba officinalis, Scirpus sylvaticus
Dominant species: Bistorta major, Carex brizoides, Cirsium oleraceum, Filipendula ulmaria, Scirpus sylvaticus
Formal definition: Carex brizoides cover > 25 % AND (Group Caltha palustris OR Group Lychnis flos-cuculi)
Source: Kučera T. (2007): TDF10 Scirpo sylvatici-Caricetum brizoidis Kučera et al. 1994. In: Chytrý M. (ed.), Vegetace České republiky. 1. Travinná a keříčková vegetace [Vegetation of the Czech Republic. 1. Grassland and Heathland Vegetation]. Academia, Praha, pp. 269-271.