Vegetation of the Czech Republic
Association TDF13
Lysimachio vulgaris-Filipenduletum ulmariae Balátová-Tuláčková 1978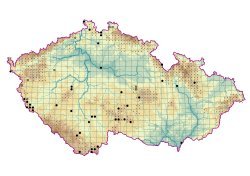 Photo on botanickafotogalerie.cz
This association includes species-poor tall-forb grasslands dominated by Filipendula ulmaria. They develop from abandoned meadows in persistently wet habitats, often in the littoral zone of water bodies. Soils are usually poorer in calcium than in the case of the previous association. This vegetation type occurs scattered across the Bohemian Massif and it is most common at middle altitudes.
Orig. (Balátová-Tuláčková 1978): Lysimachio vulgari-Filipenduletum ass. nova (Filipendula ulmaria)
Diagnostic species: Carex vesicaria, Filipendula ulmaria, Lysimachia vulgaris, Scutellaria galericulata
Constant species: Alopecurus pratensis, Angelica sylvestris, Caltha palustris, Carex vesicaria, Cirsium palustre, Filipendula ulmaria, Galium palustre agg., G. uliginosum, Lysimachia vulgaris, Poa trivialis, Ranunculus auricomus agg., Scirpus sylvaticus, Scutellaria galericulata
Dominant species: Filipendula ulmaria, Lysimachia vulgaris
Formal definition: Filipendula ulmaria cover > 25 % AND (Group Carex acuta OR Group Lysimachia vulgaris) NOT Group Cirsium oleraceum
Source: Hájková P. & Hájek M. (2007): TDF13 Lysimachio vulgaris-Filipenduletum ulmariae Balátová-Tuláčková 1978. In: Chytrý M. (ed.), Vegetace České republiky. 1. Travinná a keříčková vegetace [Vegetation of the Czech Republic. 1. Grassland and Heathland Vegetation]. Academia, Praha, pp. 276-278.