Vegetation of the Czech Republic
Association TED01
Juncetum squarrosi Oberdorfer 1934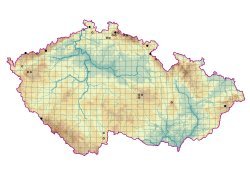 Photo on botanickafotogalerie.cz
These species-poor grasslands of Juncus squarrosus and Nardus stricta occur in shallow wet depressions or on the edges of mires. The soils are wet, acidic and poor in nutrients. Such conditions support development of a rich moss layer and at some sites they are also conducive to processes of peat formation. The community is found in precipitation-rich areas of the Czech Republic and it is most common in northern and north-western Bohemia. It also occurs in the Třeboň basin of southern Bohemia and elsewhere in the mountains.
Orig. (Oberdorfer 1934): Juncetum squarrosi
Syn.: Juncetum squarrosi Nordhagen 1922 (§ 3d, association of Uppsala School), Nardo strictae-Juncetum squarrosi Goksøyr 1938
Diagnostic species: Juncus squarrosus, Nardus stricta
Constant species: Agrostis capillaris, Avenella flexuosa, Carex nigra, Juncus squarrosus, Nardus stricta, Potentilla erecta; Polytrichastrum formosum
Dominant species: Agrostis capillaris, Juncus squarrosus, Molinia caerulea s. l. (M. caerulea s. str.), Nardus stricta, Potentilla erecta; Sphagnum capillifolium s. l., S. girgensohnii
Formal definition: Juncus squarrosus cover > 5 %
Source: Krahulec F. (2007): TED01 Juncetum squarrosi Oberdorfer 1934. In: Chytrý M. (ed.), Vegetace České republiky. 1. Travinná a keříčková vegetace [Vegetation of the Czech Republic. 1. Grassland and Heathland Vegetation]. Academia, Praha, pp. 304-306.