Vegetation of the Czech Republic
Association TEE01
Euphorbio cyparissiae-Callunetum vulgaris Schubert 1960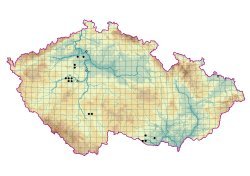 Photo on botanickafotogalerie.cz
This association includes dry heathlands dominated by Calluna vulgaris and containing drought-adapted herbs, mosses and lichens. It occurs on acidic, nutrient-poor and shallow soils over sand or hard rocks such as granite, gneiss and sandstone. Traditionally the stands were grazed by sheep or goats and perhaps occasionally burned as well. This vegetation is more common in dry colline landscapes and lowlands of central Bohemia and south-western Moravia. Isolated stands have also been recorded in other areas with lower precipitation.
Orig. (Schubert 1960): Euphorbia-cyparissias-Calluna-vulgaris-Assoziation
Syn.: Cladonio sylvaticae-Callunetum vulgaris Krieger 1937 (§ 31, younger homonym: non Cladonio sylvaticae-Callunetum vulgaris Juraszek 1927), Antherico-Callunetum Stöcker in Schubert 1960, Deschampsio-Callunetum sensu Tüxen 1968 non Zlatník 1925, Genisto pilosae-Avenelletum flexuosae Vozárová 1986, Carici humilis-Callunetum Ambrozek et Chytrý 1990, Agrostio vinealis-Genistetum pilosae Ambrozek et Chytrý 1990
Diagnostic species: Calluna vulgaris, Hieracium pilosella, Jasione montana, Rumex acetosella; Cladonia uncialis, Polytrichum piliferum
Constant species: Achillea millefolium agg. (predominantly A. collina), Anthoxanthum odoratum s. l. (A. odoratum s. str.), Avenella flexuosa, Calluna vulgaris, Dianthus carthusianorum s. l., Euphorbia cyparissias, Festuca ovina, Galium verum agg. (G. verum s. str.), Hieracium pilosella, Hypericum perforatum, Jasione montana, Koeleria macrantha, Pimpinella saxifraga, Potentilla arenaria, Rumex acetosella; Cladonia uncialis, Polytrichum piliferum
Dominant species: Calluna vulgaris
Formal definition: Calluna vulgaris cover > 25 % AND (Group Jasione montana OR Group Potentilla arenaria) NOT Group Viola canina NOT Arctostaphylos uva-ursi cover > 25 %
Source: Chytrý M. (2007): TEE01 Euphorbio cyparissiae-Callunetum vulgaris Schubert 1960. In: Chytrý M. (ed.), Vegetace České republiky. 1. Travinná a keříčková vegetace [Vegetation of the Czech Republic. 1. Grassland and Heathland Vegetation]. Academia, Praha, pp. 308-310.