Vegetation of the Czech Republic
Association TFA01
Corniculario aculeatae-Corynephoretum canescentis Steffen 1931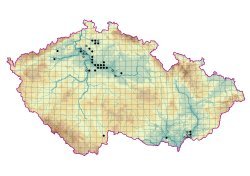 Photo on botanickafotogalerie.cz
This association of open Corynephorus canescens grasslands is typical of acidic sand dunes. Most of these dunes originated in places of large-scale disturbances such as forest clearings, pastures, sand pits or on military training grounds. Recurrent disturbance at an interval of every few years is necessary for this vegetation type to persist and to prevent succession towards closed grassland. Most localities are found on the terraces of the Labe river, in sandstone-dominated areas of northern Bohemia, and near Hodonín in southern Moravia.
Nomen inversum propositum
Orig. (Steffen 1931): Corynephorus-Cornicularia-Assoziation (Corynephorus canescens, Cornicularia aculeata ~ Cetraria aculeata)
Syn.: Weingaertnerietum Tüxen 1928 (§ 31, younger homonym: non Corynephoretum Braun 1915), Spergulo morisonii-Corynephoretum canescentis Libert 1933 (fantom), Spergulo vernalis-Corynephoretum canescentis Tüxen (1928) 1955, Thymo angustifolii-Corynephoretum canescentis Krippel 1954, Veronico dillenii-Corynephoretum Passarge 1960
Diagnostic species: Corynephorus canescens, Filago minima, Hypochaeris radicata, Jasione montana, Rumex acetosella, Spergula morisonii, Teesdalia nudicaulis, Thymus serpyllum; Cladonia phyllophora, C. pocillum
Constant species: Agrostis capillaris, Corynephorus canescens, Rumex acetosella, Spergula morisonii, Thymus serpyllum; Ceratodon purpureus
Dominant species: Corynephorus canescens, Spergula morisonii, Thymus serpyllum
Formal definition: Group Corynephorus canescens NOT Group Festuca vaginata NOT Group Koeleria glauca NOT Festuca brevipila cover > 25 % NOT Festuca ovina cover > 25 %
Source: Chytrý M. & Sádlo J. (2007): TFA01 Corniculario aculeatae-Corynephoretum canescentis Steffen 1931. In: Chytrý M. (ed.), Vegetace České republiky. 1. Travinná a keříčková vegetace [Vegetation of the Czech Republic. 1. Grassland and Heathland Vegetation]. Academia, Praha, pp. 325-328.