Vegetation of the Czech Republic
Association TFA02
Festuco psammophilae-Koelerietum glaucae Klika 1931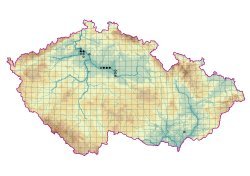 Photo on botanickafotogalerie.cz
This association of Corynephorus canescens grasslands occurs on slightly less acidic sand dunes than with the Corniculario aculeatae-Corynephoretum canescentis. In addition to the species of suboceanic distribution, it also contains several continental (sarmatic) species. It occurs in sandy areas along the Labe river; one historical occurrence was also recorded from southern Moravia.
Orig. (Klika 1931a): asociace Festuca psammophila-Koeleria glauca
Syn.: Festuco psammophilae-Koelerietum glaucae Kobendza 1930 (fantom), Jurineo cyanoidis-Koelerietum glaucae Klika 1931 (fantom)
Diagnostic species: Chondrilla juncea, Corynephorus canescens, Festuca psammophila, Filago minima, Gypsophila fastigiata, Helichrysum arenarium, Jurinea cyanoides, Koeleria glauca, Thymus serpyllum; Cladonia pyxidata, C. uncialis
Constant species: Achillea millefolium agg. (predominantly A. collina), Corynephorus canescens, Festuca psammophila, Hieracium pilosella, Koeleria glauca
Dominant species: Agrostis capillaris, Corynephorus canescens, Elytrigia repens, Festuca psammophila, Jurinea cyanoides
Formal definition: Group Koeleria glauca NOT Calluna vulgaris cover > 25 %
Source: Sádlo J. (2007): TFA02 Festuco psammophilae-Koelerietum glaucae Klika 1931. In: Chytrý M. (ed.), Vegetace České republiky. 1. Travinná a keříčková vegetace [Vegetation of the Czech Republic. 1. Grassland and Heathland Vegetation]. Academia, Praha, pp. 328-330.