Vegetation of the Czech Republic
Association TFB02
Vulpietum myuri Philippi 1973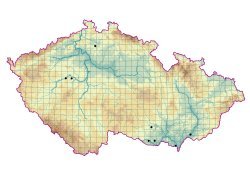 Photo on botanickafotogalerie.cz
Open vegetation with the annual grass Vulpia myuros occurs at disturbed sites over sandy or gravelly deposits, e.g. in sand pits, disturbed sites near villages, trampled habitats and places in-between tracks in railway stations. It is scattered in dry lowlands and colline landscapes.
Orig. (Philippi 1973): Vulpietum myuri Oberdorfer 1938 em.
Syn.: Filagini-Vulpietum dertonensis Oberdorfer 1938 p. p., Filagini-Vulpietum myuri Oberdorfer 1938 (fantom)
Diagnostic species: Artemisia absinthium, Bromus tectorum, Filago minima, Potentilla argentea, Spergularia rubra, Taraxacum sect. Erythrosperma, Vulpia myuros
Constant species: Bromus tectorum, Plantago lanceolata, Potentilla argentea, Rumex acetosella, Vulpia myuros; Ceratodon purpureus
Dominant species: Vulpia myuros
Formal definition: Vulpia myuros cover > 5 % NOT Group Plantago arenaria
Source: Sádlo J. (2007): TFB02 Vulpietum myuri Philippi 1973. In: Chytrý M. (ed.), Vegetace České republiky. 1. Travinná a keříčková vegetace [Vegetation of the Czech Republic. 1. Grassland and Heathland Vegetation]. Academia, Praha, pp. 341-343.