Vegetation of the Czech Republic
Association TFD02
Jasiono montanae-Festucetum ovinae Klika 1941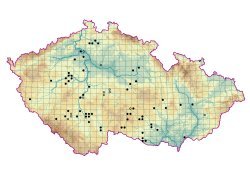 Photo on botanickafotogalerie.cz
These Festuca ovina dominated grasslands are composed of moderately thermophilous and drought-adapted species which readily spread into dry pastures across the cultural landscapes of mid-altitudes. They are confined to shallow soils over hard siliceous bedrocks. Most localities are found in colline and submontane belts of the Bohemian Massif in central and southern Bohemia and south-western Moravia. Some occurrences have also been recorded elsewhere on nutrient-poor acidic soils.
Nomen inversum propositum
Orig. (Klika 1941): asociace Festuca ovina-Jasione montana
Syn.: Festucetum ovinae Mikyška 1929 (§ 36, nomen ambiguum), Artemisio campestris-Corynephoretum canescentis Kosinová-Kučerová 1964, Cynancho-Festucetum ovinae Mahn 1965, Cerastio arvensis-Agrostietum pusillae Moravec 1967, Jasiono montanae-Dianthetum deltoidis Oberdorfer ex Mucina in Mucina et al. 1993
Diagnostic species: Agrostis vinealis, Festuca ovina, Hieracium pilosella, Jasione montana, Rumex acetosella, Scleranthus perennis; Polytrichum piliferum
Constant species: Agrostis capillaris, Festuca ovina, Hieracium pilosella, Hypericum perforatum, Jasione montana, Rumex acetosella, Thymus pulegioides; Ceratodon purpureus, Polytrichum piliferum
Dominant species: Festuca ovina; Cladonia arbuscula, Hypnum cupressiforme s. l., Pleurozium schreberi, Polytrichum piliferum, Racomitrium canescens
Formal definition: Festuca ovina cover > 5 % AND Group Jasione montana NOT Group Arrhenatherum elatius NOT Group Corynephorus canescens NOT Group Festuca vaginata NOT Group Gagea bohemica NOT Group Helichrysum arenarium NOT Group Leucanthemum vulgare NOT Group Phleum phleoides NOT Group Potentilla arenaria NOT Festuca valesiaca cover > 25 % NOT Scleranthus perennis cover > 5 %
Source: Sádlo J. & Chytrý M. (2007): TFD02 Jasiono montanae-Festucetum ovinae Klika 1941. In: Chytrý M. (ed.), Vegetace České republiky. 1. Travinná a keříčková vegetace [Vegetation of the Czech Republic. 1. Grassland and Heathland Vegetation]. Academia, Praha, pp. 353-355.