Vegetation of the Czech Republic
Association THD05
Stipetum tirsae Meusel 1938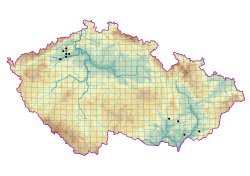 Photo on botanickafotogalerie.cz
This dry grassland is dominated by Stipa tirsa and contains species of both the meadow steppe and dry steppe. Within the Festucion valesiacae, it occupies the least dry sites on gentle slopes or footslopes, usually covered by deep calcareous soils. It is a relict of the vegetation of the Pleistocene steppe on plains in dry lowlands – a great rarity today since it has been converted into arable land in most areas of original distribution. It is most common in the south-western part of the České středohoří hills, in the middle Ohře valley of northern Bohemia and at a few sites in southern Moravia.
Nomen mutatum propositum
Orig. (Meusel 1938): Stipetum stenophyllae (Stipa stenophylla ~ S. tirsa)
Syn.: Stipetum stenophyllae Podpěra 1930 (§ 2b, nomen nudum), Stipetum stenophyllae Mahn in Schubert 1974 (§ 31, younger homonym), Koelerio macranthae-Stipetum joannis Kolbek 1978 stipetosum tirsae Kolbek 1978 (subassociation), Eryngio campestris-Stipetum tirsae Toman 1981
Diagnostic species: Artemisia pontica, Aster linosyris, Carex michelii, Fragaria viridis, Linum austriacum, Stipa dasyphylla, S. tirsa, Thalictrum minus, Thymus pannonicus; Fissidens dubius, Weissia brachycarpa
Constant species: Brachypodium pinnatum, Euphorbia cyparissias, Festuca rupicola, Fragaria viridis, Koeleria macrantha, Poa pratensis s. l., Stipa tirsa, Teucrium chamaedrys; Fissidens dubius, Rhytidium rugosum, Thuidium abietinum, Weissia brachycarpa
Dominant species: Stipa tirsa
Formal definition: Stipa tirsa cover > 25 % NOT Group Trifolium rubens
Source: Chytrý M. (2007): THD05 Stipetum tirsae Meusel 1938. In: Chytrý M. (ed.), Vegetace České republiky. 1. Travinná a keříčková vegetace [Vegetation of the Czech Republic. 1. Grassland and Heathland Vegetation]. Academia, Praha, pp. 421-423.