Vegetation of the Czech Republic
Association THE01
Scabioso ochroleucae-Brachypodietum pinnati Klika 1933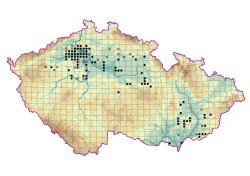 Photo on botanickafotogalerie.cz
These are semi-closed to closed dry grasslands mostly dominated by Brachypodium pinnatum or Bromus erectus. Usually they occur on gentle, south-facing slopes with heavy calcareous soils over Cretaceous and Tertiary sediments. In most places this vegetation develops at sites potentially supporting thermophilous oak or hornbeam forests. It was traditionally grazed or mown for hay, but most sites became abandoned. This grassland is widespread in lowlands and along adjacent upland fringes of northern, central and eastern Bohemia, as well as of central, eastern and southern Moravia.
Orig. (Klika 1933): Scabiosa ochroleuca-Brachypodium pinnatum-Assoziation Klika 1932
Syn.: Ononido spinosae-Cirsietum acaulis Mikyška 1956, Scorzonero hispanicae-Brachypodietum pinnati Gauckler 1957, Bupleuro-Brachypodietum Mahn 1965, Festuco rupicolae-Brachypodietum Mahn 1965, Lino tenuifolii-Ononidetum spinosae Toman 1976, Pulsatillo pratensis-Globularietum elongatae Toman 1976, Anemono sylvestris-Brachypodietum pinnati Toman 1981, Potentillo reptantis-Caricetum flaccae Studnička 1980, Cichorio intybi-Brometum erecti Toman 1988, Salvio verticillatae-Origanetum vulgaris Toman 1988
Diagnostic species: Brachypodium pinnatum, Bupleurum falcatum, Carlina vulgaris s. l., Cirsium acaule, Festuca rupicola, Linum catharticum, Ononis spinosa, Plantago media, Potentilla heptaphylla, Sanguisorba minor, Scabiosa ochroleuca, Tetragonolobus maritimus; Fissidens dubius
Constant species: Achillea millefolium agg. (predominantly A. collina), Brachypodium pinnatum, Bupleurum falcatum, Carlina vulgaris s. l., Centaurea jacea, C. scabiosa, Cirsium acaule, Euphorbia cyparissias, Festuca rupicola, Galium verum agg. (predominantly G. verum s. str.), Knautia arvensis agg., Leontodon hispidus, Linum catharticum, Lotus corniculatus, Ononis spinosa, Pimpinella saxifraga, Plantago media, Salvia pratensis, Sanguisorba minor, Scabiosa ochroleuca, Securigera varia, Thymus praecox
Dominant species: Brachypodium pinnatum, Bromus erectus, Carex flacca, C. humilis, Festuca rupicola
Formal definition: Group Brachypodium pinnatum AND Group Cirsium acaule NOT Group Carex caryophyllea NOT Group Inula ensifolia NOT Group Plantago maritima NOT Group Potentilla arenaria NOT Sesleria caerulea cover > 25 %
Source: Novák J. & Chytrý M. (2007): THE01 Scabioso ochroleucae-Brachypodietum pinnati Klika 1933. In: Chytrý M. (ed.), Vegetace České republiky. 1. Travinná a keříčková vegetace [Vegetation of the Czech Republic. 1. Grassland and Heathland Vegetation]. Academia, Praha, pp. 427-429.